PwC's ESG Academy Latvia webinar cycle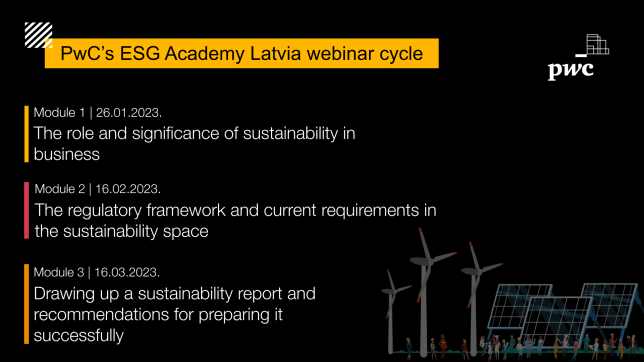 PwC's ESG Academy Latvia webinar cycle:
Module 1 - January 26, 2023 - The role and significance of sustainability in business
Module 2 - February 16, 2023 - The regulatory framework and current requirements in the sustainability space
Module 3 - March 16, 2023 - Drawing a sustainability report and recommendations for preparing it successfully
RSVP: HERE:
PwC's ESG Academy Latvija: Modern business leaders work sustainably, integrating social, environmental, economic and ethical factors into their business strategy. They recognize that engaging with all stakeholders – suppliers, customers, employees, shareholders and government agencies – is key to sustainable performance. The 3 webinars' cycle will provide you with guidance on where to start, how to develop and improve sustainable practices in your companies.
AmCham Members are entitled to 15% discount (please indicate "AmCham Member" in comments section in the application form).
< Back to Special offers

AmCham is a place to meet representatives of other industries and understand the business environment.
Signe Velina, Market Access Manager Latvia of Johnson & Johnson