Newsletter

June/July 2023
Welcome to our monthly newsletter. The summer season has come with a variety of events both business-like and family-friendly. We had an open discussion with the Prime Minister of Latvia, spent a memorable U.S. Independence Day celebration at Mezaparks, and enjoyed a family brunch at a newly opened McDonald's restaurant. We also explored Swisscom's work culture and learned about the latest digital trends of the telecommunications industry.

Last week AmCham alongside eight organizations, including business and industry associations, released a joint statement urging the government to amend laws and regulations to prevent economic double taxation on dividends for individual investors in order to grow the economy.

Be sure to take a look at our program for upcoming months and pick one or more events of your choice. We wish you a great summer holiday!
Jul 11, 2023 (12:00-14:00) - Getting inspired by Latvia's first unicorn. Read more
Jul 11, 2023 (18:00-22:00) - Among first to enjoy Mission Impossible. Read more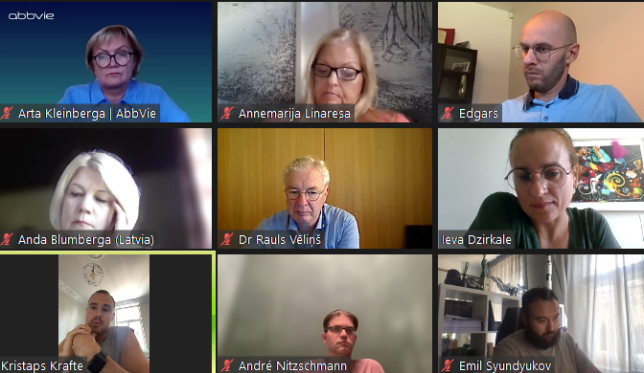 Aug 15, 2023 (16:00-17:00) - Keeping track on healthcare projects. Read more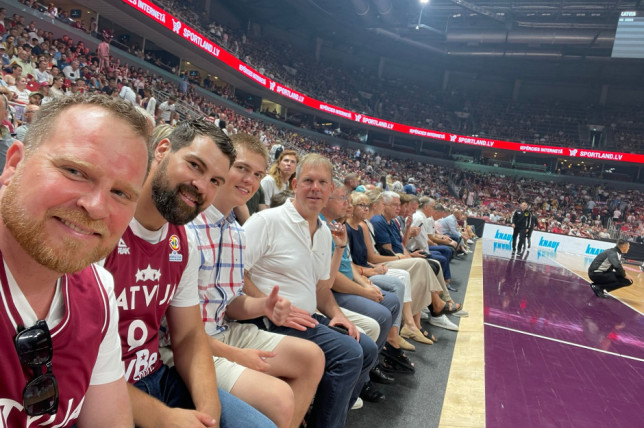 Aug 16, 2023 (17:30-21:00) - Latvian team wins FIBA Basketball World Cup Test Match. Read more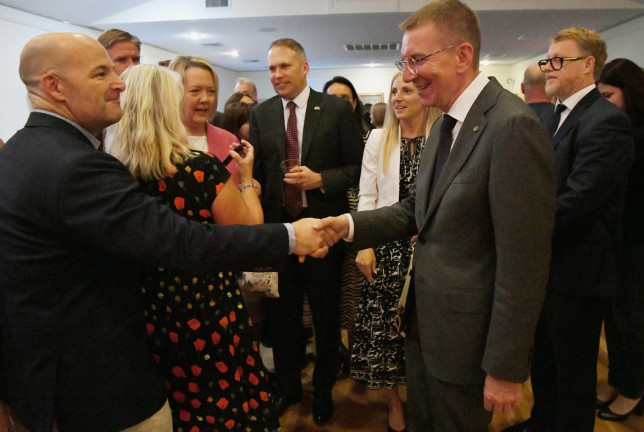 Sep 21, 2023 - Sep 22, 2023 - Spotlight Latvia fosters trade and investment between the U.S. and Latvia. Read more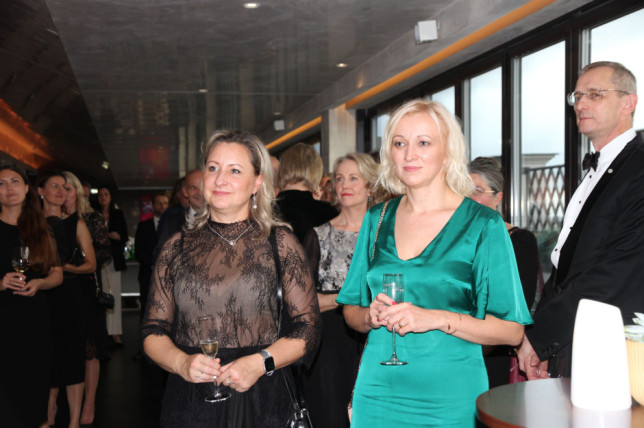 Oct 05, 2023 (16:30-22:00) - Enjoying Verdi's masterpiece: Don Carlos. Read more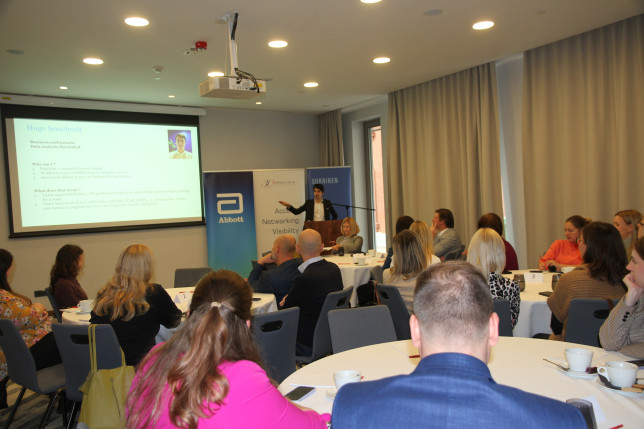 Oct 17, 2023 (13:00-17:00) - Launch of RESAH guidelines promoting value-based procurement. Read more
Over 500 people celebrate U.S. Independence Day at a family picnic

On July 1, more than 500 guests gathered at a delightful picnic to commemorate the 247th Anniversary Independence of the United States. The event embraced American traditions, food, music, and various activities. Our gracious host John Tully welcomed everyone to his residence in Mezaparks, setting the stage for a day filled with vibrant energy and enthusiasm. The festivities commenced with warm greetings from U.S. Ambassador Christopher Robinson and co-host Dmitrijs Latisevs, the Chairman of the Board at BluOr Bank. The event involved a wide array of festivities, including a diverse selection of food and beverages, a charity raffle, a quiz highlighting the history and traditions of the 4th of July, contests, and board games. Read more

500 participants from 25 countries join WLEIF

This year's World Latvian Economics and Innovations Forum focused on the Latvian economy, including biomedicine, medical technology, pharmaceuticals, green technology, smart energy, transportation, and mobility. It featured numerous speakers including AmCham the President of Latvia, the Prime Minister, the Minister of Foreign Affairs, and Mayors of Riga and Liepaja, in addition to a number of successful entrepreneurs and professionals. AmCham President John Tully joined the panel devoted to the future of Latvia's healthcare and biotech sectors and AmCham Vice President Pauls Miklasevics moderated the discussion on the energy sector policies for Latvia in the next 10 years. Read more

Prime Minister Karins meets AmCham members

On June 2, members and guests were invited to an open, off-the-record discussion with Krisjanis Karins, Prime Minister of Latvia to address the most relevant and timely issues the American and international businesses are facing today such as economic transformation, human capital development, defense and security policy as well as reforms in education and healthcare. Read more

Shaping a creative future

On June 13, Thought Leaders Series encompassed an enlightening event featuring keynote speaker Dr. Frederik Pferdt with a primary focus on the pivotal role of innovation and creativity in shaping the future. Based on his extensive background as a Google Innovation Evangelist and educational contributions as a professor at Stanford University, unique insights were shared, such as incentivizing the release of antiquated ideas to foster collaboration in generating novel ones and embracing risk in pursuing innovation. Read more

Families enjoy delightful brunch at McDonald's

On June 3, McDonald's invited members to a family brunch at their recently opened McDonald's restaurant at Juglas Street 95A. Members with their families enjoyed delicious meals, networking, and fun time. In addition to excellent food, families experienced a magic show. Many thanks to McDonald's for hosting such a fun and entertaining family event! Read more

Digital transformation of Telco industry

On June 14, Swisscom hosted Business After Hours with various activities such as presentations on Swisscom's work culture and digital transformations within the telco industry and a guided tour of the beautiful Swisscom office located at the business and office center Verde. The presentations included transformative initiatives, notably the amalgamation of development and operations teams into a unified "DevOps" structure, with the office functioning primarily as a DevOps center. Read more
Featuring McDonald's Baltics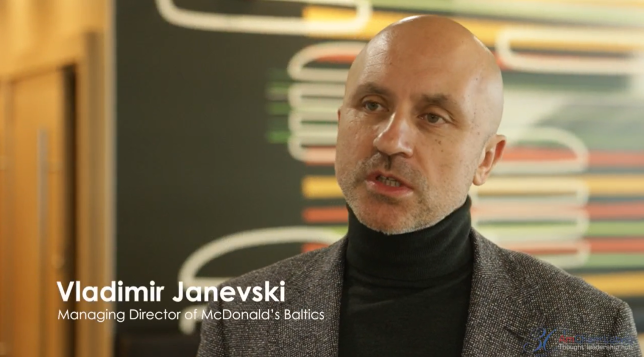 Thank you to all our Anniversary year sponsors, including Vladimir Janevski, Managing Director of McDonald's Baltics, who emphasized that being part of AmCham is a privilege, and wished us success for the upcoming years. Vladimir speaks on shared goals between AmCham and McDonald's Baltics: "AmCham and us, McDonalds, have one aim, something that is clear for all of us – having a very transparent business environment. It is our common role contributing to Latvian society and having equal opportunities for all." Read more
TGS Baltic joins AmCham

TGS Baltic, one of the leading law firms in Latvia and the Baltics that provides legal services in all areas of commercial law and ensures representation in legal proceedings, has joined the Chamber as a Corporate Contributing member. The firm has been recognized in all areas of law by Legal 500, Chambers Europe, Chambers Global, and IFLR1000 publications. A warm welcome to AmCham community! Read more
Joint statement calling to balance the tax burden in order to grow Latvia's economy

Nine organizations of foreign and domestic investors, business and industry associations, as well as professionals in Latvia and its diaspora, have jointly urged the Latvian government to amend laws and regulations in order to prevent economic double taxation on dividends for individual investors. At a time when Latvia lags further behind its neighbors in economic growth and development, it is imperative to remove all barriers reducing its international competitiveness. The joint call has been addressed to the Prime Minister, line ministers, and Saeima's Committees. Read more

AmCham contributes to digital health

In 2023, the Ministry of Health formulated a Digital Health strategy, which was discussed in the Digital Health Council. During the Council meetings and discussions, AmCham has presented a supportive stance on Digital Health by clearly defining priorities and responsible organizations, interoperability, and standardization of health data as well as enhancing the user experience of the Digital Health ecosystem. Read more

Update on healthcare projects and events

On June 6, AmCham Healthcare work group members joined an online meeting to review ongoing projects: value-based healthcare concept, healthcare financing, digital health strategy, secondary health data, and value-based tenders. The group also touched upon the upcoming events scheduled for this fall such as Business After Hours hosted by AbbVie, Precision Medicine Network Forum, and a conference on human capital development. Read more
8 members reach several categories in InCSR

The Sustainability Index 2023 acknowledged 8 AmCham including SEB and Swedbank (Diamond category), Coca-Cola (Platinum), airBaltic and Luminor (Gold) and Citadele, Cognizant and RISEBA (Silver). Furthermore, Swedbank has been honored with a prestigious Gender Equality Award in recognition of its successful implementation of gender equality principles. The Institute for Corporate Sustainability and Responsibility has been assessing corporate sustainability and responsibility practices in Latvia for 14 years. The objective of the index is to evaluate corporate sustainability and responsibility in order to recognize companies that strengthen the Latvian economy. Read more

SEB bank launches new office building Gustavs

SEB Global Services in Riga announces the launch of a brand-new office building GUSTAVS and is planning to relocate all 1200 colleagues to one of the most modern, inspiring and sustainable office buildings in Riga. It offers comfortable and diverse workspaces, coffee spots, a spacious dining area, gym, game rooms and parents' rooms, rooms for power naps and meditation, library, roof terrace and so much more. Read more

airBaltic launches new base the Canary Islands

airBaltic announces that it will open a seasonal base in Las Palmas, Gran Canaria (Spain) for the upcoming winter season, which will begin at the end of October 2023. During winter, two of the airline's Airbus A220-300 aircraft will be based at the Gran Canaria Airport, serving 10 direct routes. Read more

Longenesis 2nd best at EIT Health Catapult finals

Longenesis, a digital health start-up that offers a platform for biomedical organizations to accelerate clinical research, has won second place in the digital health category and a prize of €20,000 in the finals of the Catapult competition by the EIT Health – a Knowledge and Innovation Community of the European Institute of Innovation and Technology. Read more

Bayer opens innovative office in Riga

Bayer has recently celebrated the opening of an innovative concept office based on the success of such concept offices in Finland and Denmark and representing a new approach to work. Spanning 300 square meters, the newly unveiled office is designed to create an open and inviting space that fosters collaboration and offers a variety of work settings to encourage innovation and features well-lit common areas that facilitate team connections. Read more

EIT Health's Attract To Invest program open for applications

If your company has a product or service available in a European market, and will open a seed or series A investment round, this is your opportunity. EIT Health's Attract To Invest program prepares companies for successful investment rounds. During the program, teams will receive smart money, learn practical fundraising skills, gain funding for improving their products or services, and extend their professional network. Apply by July 21. Read more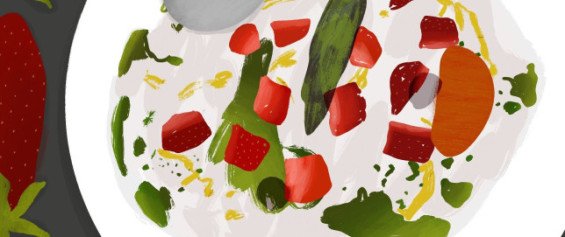 Hotel Neiburgs introduces summer season A La Carte. Read more

Hilton Garden Inn offers 50% discount for meeting room rental. Read more
Renat a car at AVIS for a month and more and get a 15% discount. Read more
As of June 15 Forum Cinemas starts screenings for the new Disney and Pixar animation Elemental. Read more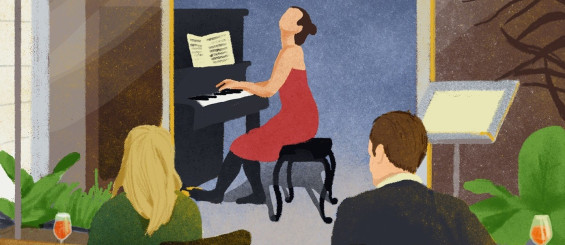 Celebrate Hotel Neiburgs 14th Anniversary on July 14th at the Neiburgs restaurant with a live performance of a jazz pianist Anna Vibes. Read more
Follow us on
Member of the AmCham network | © American Chamber of Commerce in Latvia 2023