20,000 Latvian children treated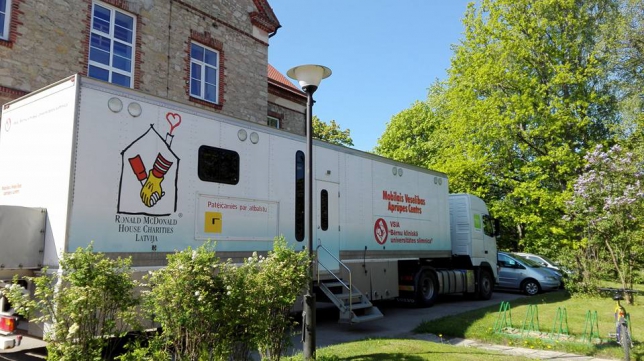 RMHC Latvija mission is to get best doctors from Children's Clinical Univerity's Hospital to children near their homes all across Latvia. Since 2011 we have treated well over 20 000 children and they have received free medical consultations. All expenses for the visits are covered by our organization - one visit is estimated at 25 EUR, but every euro is donated by supporters of the charity. Everyone can donate and support our activity thus helping children. You are invited to be among them!
Each year Care Mobile provides more than 1,500 eye exams to the children throughout Latvia. Unfortunately often many families cannot afford glasses and a child remains visually impaired. The Care Mobile team is accepting donations - if you have glasses with frames intact which you no longer need, RMHC Latvia is ready to collect them, and to deliver to children.
Outside of Riga, there are only 5 hospitals that specialize in pediatric care. This makes our mobile healthcare service critical to the basic healthcare needs of nearly 1/2 of Latvia's children, especially in rural areas.
In 2016 as in 2015, RMHC Latvija Care Mobile focused on providing medical care to children living at the social care centers, orphanages and other children in the care of the state - this year treated over 1,000 of these children with special needs.
All services provided by the Care Mobile are free of charge for the patients. All the expenses related to its operation are covered by 100% donations funded through corporate and private supporters including: 77Agency, AmCham Latvia, Cemex, COBALT, Coca-Cola HBC Latvia, DHL Latvia, Diatom Enterprises, DnB Bank, Grand Palace Hotel, International Women's Club of Riga, KPMG, Klavins Ellex, LatRosTrans, Linstow, Microsoft, Neste Oil, Olympic Casino Latvia, Premier Restaurants Latvia, RB Management, Radisson Blu Hotels in Latvia, Rotary Club of Riga International, Skrivanek Baltic, AON Baltic, Merhels Revidenti Konsultanti, Volvo Trucks Latvija, USA Embassy, DiatomArt, Hotel Bergs and many others.
< Back to News

AmCham reflects our values and enables us to meet similarly-minded people.
Daiga Auzina-Melalksne, Chair of NASDAQ Riga