Transatlantic economy hit record-breaking numbers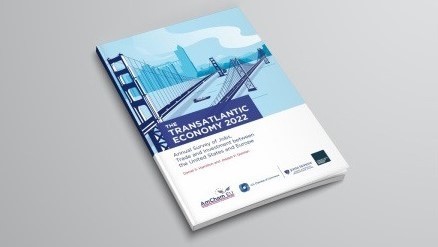 A new survey from the American Chamber of Commerce to the EU (AmCham EU) and the U.S. Chamber of Commerce reports that the transatlantic trade and investment relationship hit record-breaking numbers in 2021. The findings come out against a difficult political and economic backdrop, with the war raging in Ukraine and after two years of the COVID-19 pandemic. Inflation, congested supply chains, scarcity of raw materials and energy prices also add to global uncertainty. Despite this, the report demonstrates the resilience of the transatlantic economy and outlines avenues to strengthen the EU-US partnership with initiatives such as the Trade and Technology Council.

To view the study
To vew key findings
To view the executive summary
The Transatlantic Economy 2022 highlights how the EU-US relationship remains the largest of its kind in the world. The transatlantic economic partnership generates around €5.5 trillion ( trillion) in commercial sales a year and accounts for half of total global personal consumption. No place in the world attracts more US foreign direct investment (FDI) than Europe. Since the beginning of this decade, Europe has attracted 62.6% of total US global investment.
In 2021, transatlantic trade in goods reached €1 trillion (.1 trillion). US foreign direct investment (FDI) flows to Europe rose to €230 billion (3 billion), while US foreign affiliate income earned in Europe amounted to an estimated €272 billion (0 billion) – 2.7 times more than income earned in all of Asia.
What to look out for in this new edition?
How the war in Ukraine affects the US and European economies
What COVID-19, trade spats and congested supply chains mean for the transatlantic economy
How US-Europe commercial relations compare with those each has with China and others
Data on the rise of the transatlantic energy economy
Changing dynamics of post-Brexit relations with the UK
Individual profiles for 30 European countries and all 50 US states
The research was conducted independently by Daniel Hamilton and Joseph Quinlan at the Foreign Policy Institute, School of Advanced International Studies, Johns Hopkins University and the Transatlantic Leadership Network.
The data is also available on Thriving Together, an online platform that showcases the deep ties that bind Europe and the United States, including numbers from The Transatlantic Economy 2022. Visit the platform: thrivingtogether.eu.
The American Chambers of Commerce in Denmark, Finland, Greece, Ireland, Luxembourg and Sweden are partners of this year's edition.
< Back to News

Membership is an attestation that we belong to the modern Latvian business community.
Dace Silava-Tomsone, Managing Partner, COBALT