What is Latvia's plan for recovery?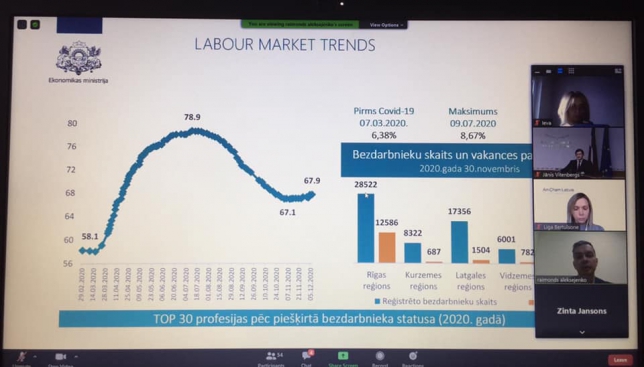 On December 11, members had an opportunity to join an online meeting with Raimonds Aleksejenko, Deputy State Secretary of the Ministry of Economy and Jurģis Miezainis, Parliamentary Secretary who shared their insights on Latvia's plan for economic recovery.

Mr. Aleksejenko emphasized that without an active policy and economic transformation, Latvia's economy might return to the current growth rates of  ~3%. In addition, due to the crisis, there is a possibility that economic recovery will lag behind even the last year's trends.
Latvia's medium-term challenges remain unchanged as a result of the Covid-19 crisis: the competitive advantage of lower labor costs is being lost as a result of the EU's open labor market, while competitive pressures from developed countries are becoming stronger. The only way to remain competitive in global markets is to increase productivity through technology and innovation.
COVID-19 will accelerate the digital transformation process in the world. Companies that have not implemented digital solutions yet will suffer the most. By introducing digital solutions, company's can significantly increase productivity. Online marketing will grow and develop. Many consumers will become accustomed to online trading solutions and may no longer want to return to retail stores after the COVID-19 crisis.


Large number of companies will switch to remote work. However, there still are many companies that won't be able to do so as it is not yet possible to fully digitally transform some sectors. Remote work will reduce demand for offices and transport services.
According to Mr. Aleksejenko, Latvia has developed a clear strategy for overcoming the Covid-19 crisis and strengthening the economy in the post-crisis period. The first step to overcome the crisis is to survive and stabilize the economy. The second is refocus the economy and the third is to implement a rapid growth strategy from 2023 onwards.
In order to alleviate the financial burden of the Covid-19 crisis on employees and businesses and to maintain a functioning economy as much as possible, the government has approved a number of support mechanisms, including: support for downtime and wage subsidies; grants for the provision of working capital; tax holidays; guaranteed loans; childcare allowance for parents, etc. In 2021, part of the support programs will also be available to entrepreneurs.
< Back to News

Roche Latvija is pleased to be part of the AmCham community.
Rauls Vēliņš, General Manager, Roche Latvija