From brain drain to brain gain
Jan 28, 2020
EVRY Latvia, Skanstes 54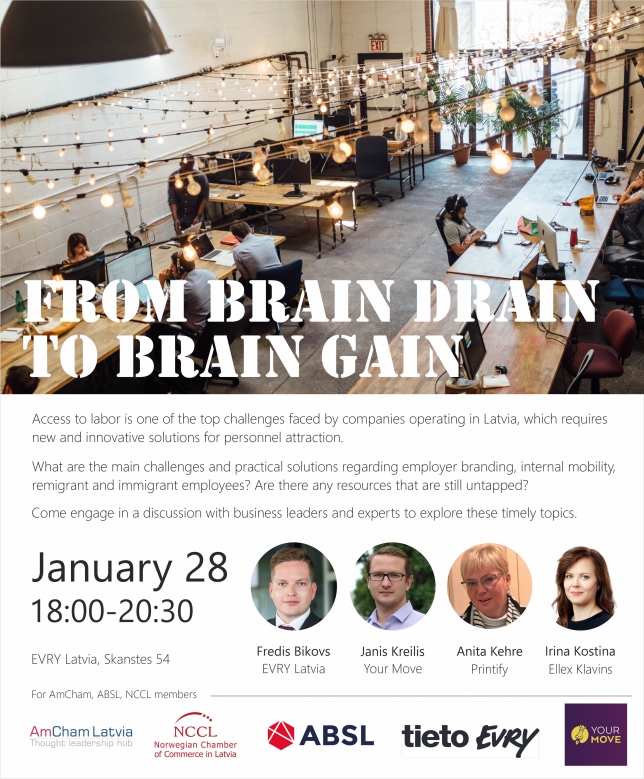 "From brain drain to brain gain" - topic that has brought a full house at the Tieto EVRY office in Riga at a an event organized jointly AmCham Latvia, the Norwegian Chamber of Commerce and ABSL. Business leaders and experts from Tieto EVRY, Your Move and Printify and Ellex Klavins explored these timely topics - the main challenges and practical solutions regarding employer branding, internal mobility, remigrant and immigrant employees.

A panel of the following speakers moderated by Irina Kostina, Associate Partner at Ellex Latvia, Head of Employment Law Practice discussed the future of Latvia's labor market:
Fredis Bikovs, General Manager of EVRY Latvia shared his story of employer branding and making EVRY known in Latvia;
Janis Kreilis, Founder and Manager of Your Move explained the biggest misperceptions about recruiting remigrants;
Anita Kehre, Legal Advisors of Printify was open about her experience recruiting immigrants, dealing with bureaucracy and overcoming other legal and cultural obstacles.
< Back to News

We re-affirm our commitment to the values that AmCham stands for and that we share.
Kārlis Danēvičs, Board member, Head of Credits and Risk at SEB Banka