Over 1100 people celebrate U.S. Independence Day
Jul 06, 2019
Latvian Ethnographic Open-Air Museum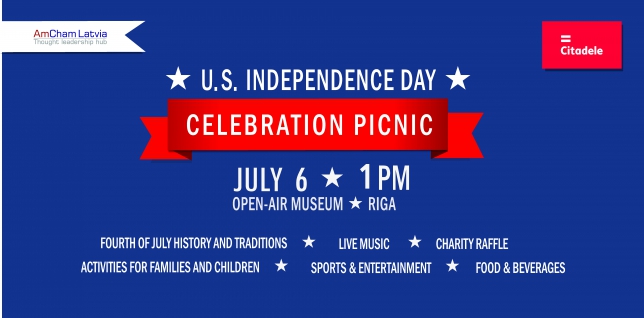 On July 6, more than 1100 members and guests attended a picnic to celebrate the 243rd Anniversary of U.S. Independence at the Latvian Ethnographic Open-Air Museum. The festive event was fulfilled with American traditions, food, music and various activities and was organized by AmCham Latvia for the fourth consecutive year.


The event kicked off with opening remarks by the Deputy Prime Minister and Minister of Justice Janis Bordans, the U.S. Ambassador in Latvia Nancy Bikoff Pettit, the President of AmCham Latvia Ingrida Karina-Berzina and Member of the Management Board of Citadele Banka, Slavomir Mizak. Live music was performed by the National Armed Forces Sea Orchestra with the national anthems and classic big band hits as well as an aspiring jazz band Apple Express.
Festivities included a wide variety of food and beverages, charity raffle, games and contests, activities for children, all provided by the sponsors. Guests feasted a choice of American classics: burgers from McDonald's and Radisson Blu Hotels, Cannelle Bakery's American bagels and El Gringo nachos among others.
The picnic sponsors were encouraged to think outside the box when providing activities to put on at the event such as creating blinking greeting cards provided by
Cognizant
, a duck pond game provided by
Latvia Tours
and a photo booth powered by the
Riga Graduate School of Law
. Kids had the opportunity to take part in a science experiment with
Zinoo
, face painting, bouncy castle and much more.
Media coverage:
Thank you to Gold sponsors:


< Back to News

AmCham is a place to meet representatives of other industries and understand the business environment.
Signe Velina, Market Access Manager Latvia of Johnson & Johnson