On the road to accessible health care
Apr 12, 2019
Radisson Blu Latvija Conference & Spa Hotel, Riga, Elizabetes 55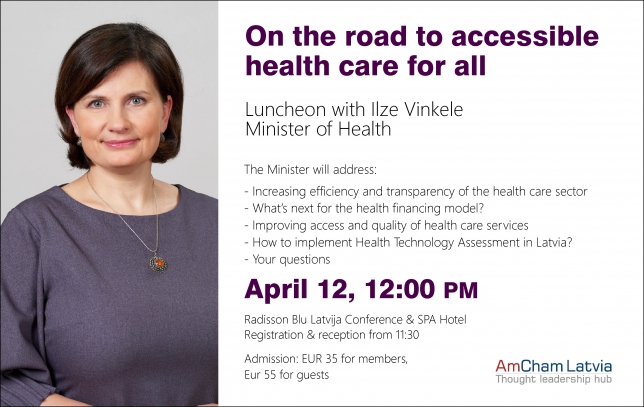 On April 12, members and guests attended the AmCham monthly business luncheon with Ilze Vinkele, Minister of Health at the Radisson Blu Latvija Conference & SPA Hotel.
The Minister informed attendees about the total budget of health care for 2019 - 170.75 mln. EUR which equals approximately 3,85% from GDP. In the Minister's view, every year at least 100 mln should be added to the health care budget. In addition, state funding of 85 mln EUR was allocated to increase the remuneration of medical practitioners in 2018. She suggested to follow the news about the funding carefully to avoid misinformation, for example, the increase of personnel wages are not equal to everyone working in the sector.
According to Minister Vinkele, health insurance will continue to be provided through mandatory social security contributions and changes to the state health insurance system will be made along with a tax revision in 2021.

In order to increase efficiency and transparency of the health care sector, the Ministry of Health is planning to set up supervisory boards in state-owned hospitals.

The Ministry of Health plans to introduce the drug store stock control system to ensure better accessibility of drugs in depopulated areas as well as to improve accessibility of reimbursed drugs.
The second stage of e-health system is in the process of improvement and the third stage is currently in being developed.
The Minister pointed out that by July 1, the evaluation of medicines and technologies will be carried out by the State Agency of Medicines of Latvia.
After the presentation a live Q&A session followed with a lot of questions from member companies.
< Back to News

I would highly recommend membership to other professionals looking to expand their business connections.
Gundars Ziemanis, Latvia branch Country Manager, Siemens Healthineers