Ambitious prospects ahead for the State Revenue Service
Mar 05, 2019
Radisson Blu Rīdzene Hotel, Reimersa 1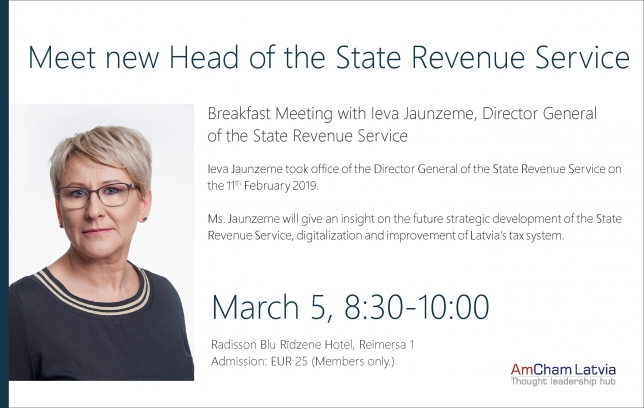 Members were delighted to meet Ieva Jaunzeme, the new Head of the State Revenue Service on Tuesday, March 5, at the Radisson Blu Rīdzene Hotel. 
Ieva Jaunzeme took office of the Director General of the State Revenue Service on February 11th of 2019. 
Ms. Jaunzeme gave an insight on the future strategic development of the State Revenue Service, digitalization and improvement of Latvia's tax system. She emphasized development of taxpayer rating system, improvement fo debt collection process as well as tools for assessing the envelope wages. 
< Back to News

AmCham provides S3 a great opportunity to connect with business community.
Agne Stojakove, Market Vice President, Country Manager Strategic, Staffing Solutions International