Kicking off the holiday season
Dec 06, 2018
Radisson Blu Elizabete Hotel, Elizabetes 73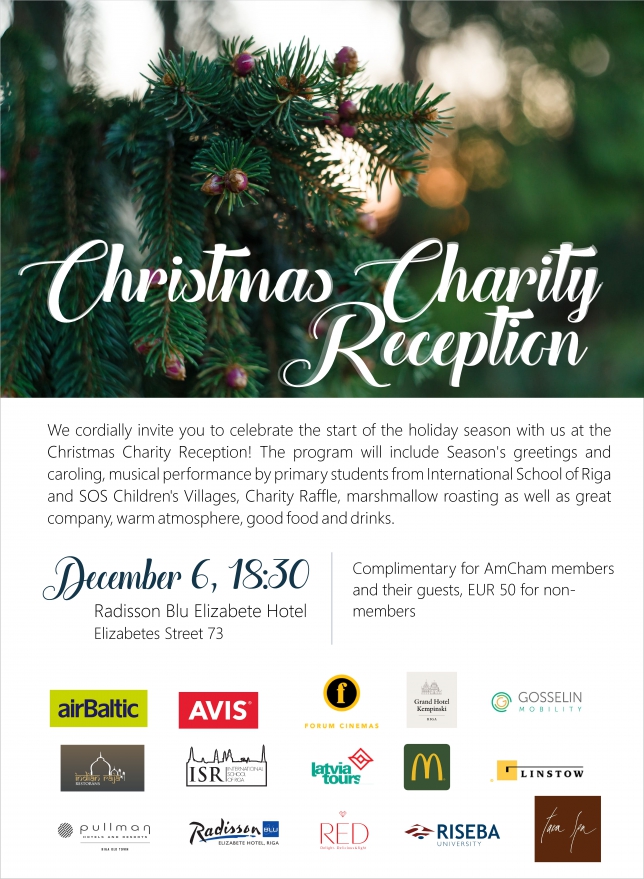 The true spirit of Christmas is a spirit of giving. AmCham kicked off the holiday season with its Annual Christmas party, charity raffle and introduced AmCham Member of the Year Award on December 6 at Radisson Blu Elizabete Hotel. 
Over 80 adults and 30 children joined the event to kick off the holiday season. Guests were greeted by Arnis Kākulis, AmCham President, followed by Paul Poletes, Deputy Chief of Mission at the U.S. Embassy who delivered season's greetings.
This year we launched the first-ever Member of the Year Award recognizing those members who have gone above and beyond in helping build a better business environment in Latvia and facilitating the Chamber's mission to foster US-Latvia business ties and making this organization stronger and better connected.
AmCham Members of the Year 2018 are:
- AON Baltic
- Gosselin Mobility Baltics
- Pullman Riga Old Town
- SEB
- Strategic Staffing Solutions
- Gints Zalitis
We raised EUR 1710 benefitting our principal charities: Latvian Foster Family Association, RMHC Latvija Care Mobile and SOS Children's Villages. 
Christmas carols were performed by primary students from International School of Riga:

In addition, members had the chance to enjoy the performance of Nakts Andris from SOS Children's Villages and Ervīns Ruža:
Various activities for children were offered, including Christmas crafts, making gingerbread cookies, roasting of marshmallows and a special prize drawing with all children receiving a gift. Some of the prizes included: tickets from Forum Cinemas, meals from McDonald's, a model aircraft from airBaltic, RED chocolate, table games, stickers and stationary.
Members and guests had a chance to win fabulous prizes of the Charity Raffle:
One night stay at DeLuxe room for 2 at Grand Hotel Kempinski Riga (incl. breakfast and SPA zone) 
A Gift Card from AVIS: car rent with a driver and a dinner for 2 on January 24, 2019. 
2 gift cards: One weekend night for 2 at Radisson Blu Elizabete Hotel (incl. breakfast) 
A test drive with new Honda CR-V for a whole weekend from Nippon Auto Latvija 
A Gift Card from Latvia Tours          
2 Taka SPA Gift Cards 
A gift card from the restaurant Equus of Pullman Old Town Riga 
2 Galactico Gift Cards          
Brunch for 2 at the restaurant CUT of Radisson Blu Elizabete Hotel 
A gift card from Pullman Old Town Riga - SPA zone for 2 persons 
3 Gift Cards from Indian Raja          
A Gift box from Gosselin Mobility Baltics 
Thanks to our generous supporters:
< Back to News

Membership is an attestation that we belong to the modern Latvian business community.
Dace Silava-Tomsone, Managing Partner, COBALT