Aerones wins Latvian-American Innovation Award
May 29, 2018
ROCKET BEAN COFFEE HOUSE, Dzirnavu 39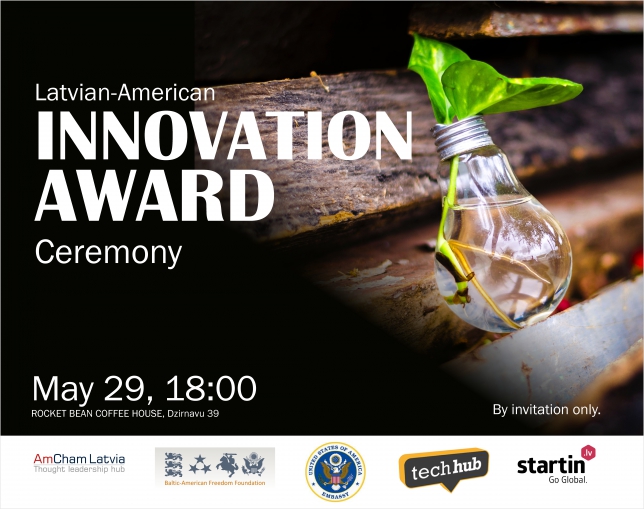 On May 29th, AmCham members and partners celebrated the innovations and impacts of a number of entrepreneurs at the 1st Latvian-American Innovation Award ceremony.

The first place winner was Aerones with their newly developed heavy-lift drones designed to help clean and de-ice wind turbines. The runner-up award was presented to Solfeg.io for their innovative music teaching application, and honorable mentions were granted the Anatomy Next for their Trauma Simulator and SAF Tehnika for their innovation, PhoeniX C. The winner received monetary prize of 10,000 Euro and the runner-up 5,000 Euro.

Aerones builds heavy-lift drones for wind turbine cleaning, deicing and applying coatings to improve wind turbine efficiency. The drone can lift up to 440lbs of weight and can be used both for cleaning and deicing wind turbines.
Solfeg.io is the brand new and innovative music teaching application and software for pupils and youth used by music teachers across America and Latvia to help teach kids how to play a specific instrument or to study music theory through fun and practical experience.

Anatomy Next has expanded the technology in medical training with their Trauma Simulator, a virtual reality training system that allows medical students to practice and improve their performance in emergency situations.
To aid in the transition from the ATSC 1.0 transmitters to ATSC 3.0, SAF Tehnika has created the PhoeniX C STL system to deliver both standards from TV broadcasting studios to the transmitter site for programing delivered over the air to the public.
Attendees of the event enjoyed refreshments, a networking hour, and introductions given by keynote speakers such as the U.S. Ambassador to Latvia, Nancy Bikoff Pettit, the Minister of Economics of Latvia, Arvils Aseradens, and AmCham's president, Arnis Kakulis.

Latvian-American Innovation Award highlights and promotes entrepreneurship, research-driven innovation, and closer economic ties between Latvia and the United States. The award recognizes innovation across business and commerce, academic and scientific research, medicine and health, the environment, energy, and education.
In total, 15 applications were received. Applications were accepted from Latvian residents or organizations registered in Latvia. In addition, submitted projects had to demonstrate a clear Latvian-American link.
The Latvian-American Innovation Award is organized by the Baltic American Freedom Foundation (BAFF), the American Chamber of Commerce in Latvia (AmCham) and the U.S. Embassy in Riga in close partnerhsip with TechHub Riga and the Latvian Startup Association Startin.LV.

Media coverage:
Dienas Bizness, May 30, 2018
TVNET, May 30, 2018
LSM.lv, May 31, 2018
< Back to News
I look forward to promoting stronger U.S.-Latvia ties and working with AmCham members to ensure Latvia is a trusted destination for international business.
John Tully, Chairman of the Board of MikroTik