The Keys to Success to Enter the U.S. Market
Mar 05, 2018
LTRK, Kr. Valdemara 35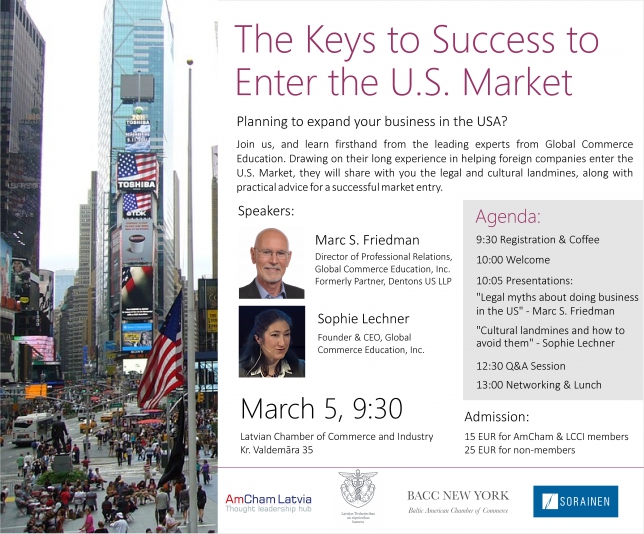 AmCham held the fifth seminar on the U.S. Market, organized in cooperation with the Latvian Chamber of Commerce and Industry (LCCI), the Baltic American Chamber of Commerce and SORAINEN on March 5. 
For companies on a growth trajectory, for accelerators, incubators, entrepreneurship programs, founders, funders and anyone supporting Latvian companies in their expansion abroad. ​
The U.S. Market is a must in order to claim the title of "Global Company". Although a challenging market requiring resources and dedication, it is achievable with the right guidance, with grit and an understanding of the correct steps to follow.​
Members and guests learned firsthand from the leading experts from Global Commerce Education. Drawing on their long experience in helping foreign companies enter the U.S. Market, they shared the legal and cultural landmines, along with practical advice for a successful market entry.
About the Speakers: 
Marc Friedman
is Director of Professional Relations at Global Commerce Education. He was previously a Partner at Dentons, a global law firm, where he was in the Venture, and Intellectual Property and Technology practices. He specialized in assisting foreign businesses in establishing operations in the U.S. as a part of a globalization  trategy. This included business formation and organization, employee relations, intellectual property protection, commercial contracts and more. In addition, Marc was an acclaimed trial and appellate lawyer with more than 45 years of experience representing technology and other companies in intellectual property, technology and other business disputes. He is in the Who's Who of Technology, Media and Telecommunications lawyers, Best Lawyers in America and New York SuperLawyers.
​
Marc is a known pioneer in technology law. A well-known authority on the subject matter of technology including intellectual property, Marc has published more than 100 articles and is the author of A Vendor's Guide to Computer Contracting, a widely read treatise.
​
He frequently lectures throughout North America, South America, Europe and Australia, and at several US law schools. Marc is a former president of the International Technology Law Association. 
Marc also maintains a vibrant Executive Coaching practice.
Sophie Lechner is Founder & CEO of Global Commerce Education, Inc., Sophie has a Bachelor's of Law from King's College in London, a Maîtrise de Droit and a DESS from Université de Paris I – Panthéon Sorbonne, and a Master's in Business Administration (MBA) from Columbia University in New York. She began her career as in-house legal counsel for Bouygues, then British Petroleum in France. After completing her MBA she joined Pfizer in New York where she led teams and projects across many countries, managed professional education for several billion-dollar global brands and pioneered the role of Alliance Manager. She later joined Bayer where she led multinational conferences and workshops for physicians and researchers.
After 25 years in global strategy on multicultural teams, Sophie founded Global Commerce Education, creating the G2 Experience program to accelerate companies' global expansion. The intensive six-day full immersion in the target market offers business leaders strategic guidance, cultural and communication training, and targeted networking to meet experts, vetted service providers and potential customers.
Sophie also speaks at workshops, conferences and webinars offered by Global Commerce Education or co-sponsored with private companies or national development agencies, in the US and abroad.
< Back to News

Roche Latvija is pleased to be part of the AmCham community.
Rauls Vēliņš, General Manager, Roche Latvija