Speak like a leader boot camp
Oct 31, 2017
Riga Business School, Skolas iela 11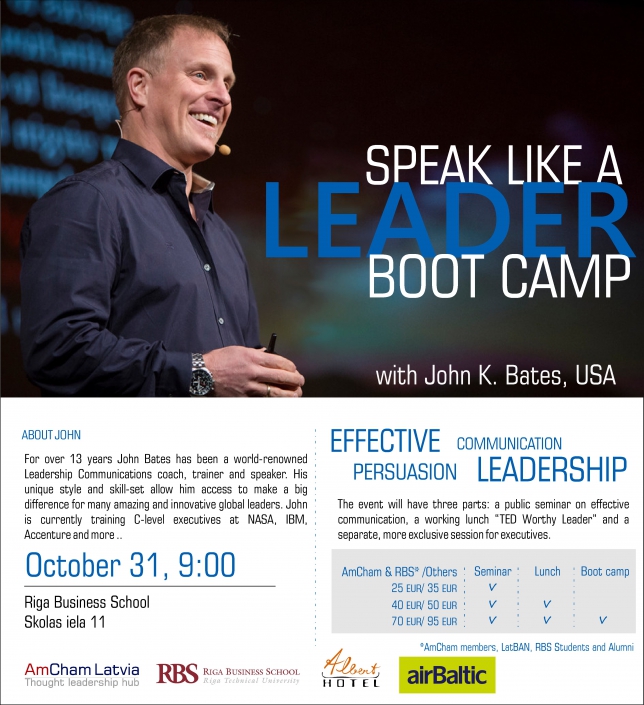 AmCham Latvia in cooperation with Riga Business School invited members and friends to the "Speak Like a Leader Boot Camp", a communications training with John K. Bates – a world-renowned Leadership Communications coach, trainer and speaker. The half-day training and working took place on October 31 the Riga Business School.
It was a highly entertaining workshop that offered an opportunity to learn how to make all communications TED-Worthy and get more of what you want more of the time. In additional John Bates shared principles based in Human Evolutionary Biology & Human Neurophysiology such as:

- Make the very most of every word you speak, and know why it works
- Increase your ability to influence and get what you want with a new level of ease
- Stand out from the crowd and be remembered
- Leave your fear and anxiety around public speaking behind for the rest of your life
The event was organized with the support of our members: Riga Business School, Air Baltic and Albert Hotel. Thank you!
About John K. Bates:

For over 13 years John Bates has been a world-renowned Leadership Communications coach, trainer and speaker. His unique style and skill-set allow him access to make a big difference for many amazing and innovative global leaders. John is currently training C-level executives at NASA, IBM, Accenture and more ..

The event consisted of three parts:

9:00 – 12:00 – Public Seminar on effective communication
12:00 – 13:00 – Working Lunch "TED Worthy Leader"
13:00 – 16:00 – Leaders Boot Camp – a training session in a smaller group for leaders and executives
< Back to News

AmCham is a place to meet representatives of other industries and understand the business environment.
Signe Velina, Market Access Manager Latvia of Johnson & Johnson