Opportunities and challenges of mega infrastructure projects
Nov 29, 2017
Radisson Blu Hotel Latvija, Elizabetes 55, 27th floor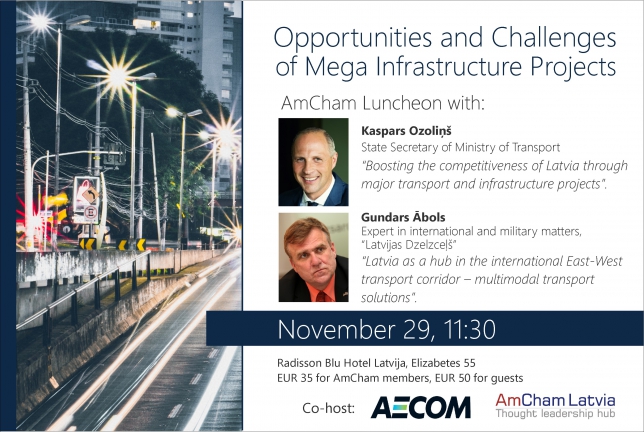 Our November luncheon was devoted to the topic "Opportunities and Challenges of Mega Infrastructure Projects" and it took place at Radisson Blu Hotel Latvija, 27th floor.

The luncheon featured Kaspars Ozoliņš, State Secretary of Ministry of Transport. Mr. Ozoliņš first gave a short overview of transport system in Latvia with cargo turnover of ports in Latvia, railways, road transport and aviation.
Gundars Ābols, Expert in international and military matters of "Latvijas Dzelzceļš" then presented the topic: Latvia as a hub in the international East-West transport corridor – multimodal transport solutions. He stressed importance of logistics center Rail Baltica and agreement with China that will establish high-speed multimodal rail routes between Latvia and China, using Riga City as logistics hub for Baltic and Nordic regions.
Members and luncheon guests were interested in the Ministry involvement in promoting the new projects and cooperating with the neighboring countries, security issues of the cargos as well as the workforce needed for a successful implementation of the Rail Baltica project.
To view the presentation by Kaspars Ozoliņš
To view the presentation by Gundars Ābols
ABOUT THE SPEAKERS
Educated at the Faculty of Law, Turiba University and at the University of Latvia, Kaspars Ozoliņš is currently State Secretary at the Ministry of Transport of the Republic of Latvia. He is also a Member of the Board of Ventspils Freeport Authority. He was head of the European Affairs Department at the Justice Ministry from 1999 to 2003. He went on to head Valmiera City Council's Legal Affairs Department in 2003, and became the transport minister's advisor in December 2011. From March 2012 to March 2013, Mr Ozoliņš worked on the Riga International Airport's board.
Gundars Ābols is an Expert in international and military matters in State Joint Stock Company "Latvijas dzelzceļš", Retired Brigade General of the Latvian Army. He also serves as the board member in the enterprise "Ritošā Sastāva Serviss". Mr. Ābols has held various positions in "Latvijas dzelzceļš" starting 2012: Deputy Communication Director, Deputy Director of International Affairs, Director Deputy of International Relations and protocol section on NATO cooperation. Reserve Brig. Gen. Ābols has served in the Latvian Army from 1991 to 2012. Afterwards, he was appointed the Advisor to the Latvian Ministry of Defense State Secretary on NATO transit from 2012 to 2014. Mr. Ābols has received 30 awards and honors.
< Back to News

I'm delighted to be part of business community which strives to improve the business environment.
Roberts Melbardis, Country Manager, Encompass Digital Media Latvia