Latvia at Geopolitical Crossroads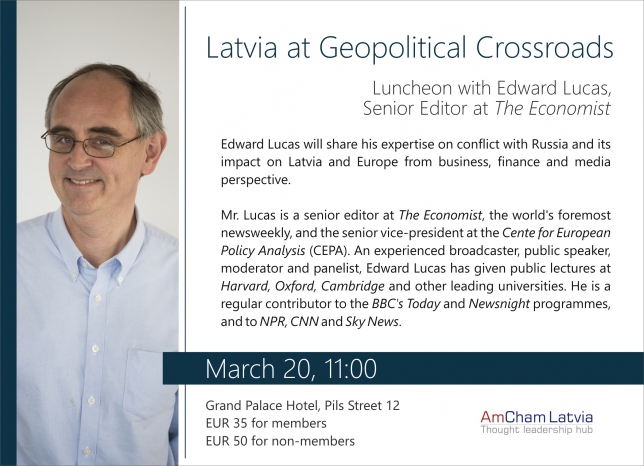 More than 50 AmCham members and guests attended luncheon with Edward Lucas on March 20 at 11:30 at Grand Palace Hote, Pils Street 12.
We thank our sponsors - Triniti and Vilis Vītols for supporting this event.
ABOUT THE SPEAKER
For many years a foreign correspondent, he was based in Berlin, Prague, Vienna, Moscow and the Baltic states. He is currently in London, as a senior editor at The Economist, responsible for the daily news app Espresso. He also writes obituaries. His weekly syndicated column has appeared since 2005; he also writes for the Times, Daily Telegraph, Daily Mail, Foreign Policy and Standpoint. He is regularly cited by Foreign Policy magazine as one of the top 100 Twitterati.
In 2008 he wrote The New Cold War, a prescient account of Vladimir Putin's Russia. In 2011 he wrote Deception, an investigative account of east-west espionage. He is a strong critic of the fugitive NSA contractor Edward Snowden, and author of an e-book - The Snowden Operation. His latest book is Cyberphobia. He has also contributed to books on religion and media ethics.
As well as working for the Independent, the BBC and the Sunday Times, he also co-founded an English-language weekly in Tallinn, Estonia: the Baltic Independent. His undergraduate degree is from the London School of Economics and he speaks five languages — German, Russian, Polish, Czech and Lithuanian.
< Back to News

AmCham and PwC share the same values and targets to achieve socially.
Zlata Elksnina-Zascirinska, Country Managing Partner at PricewaterhouseCoopers