Be brave, angry and strong
Sep 23, 2014
Grand Palace Hotel, Pils 12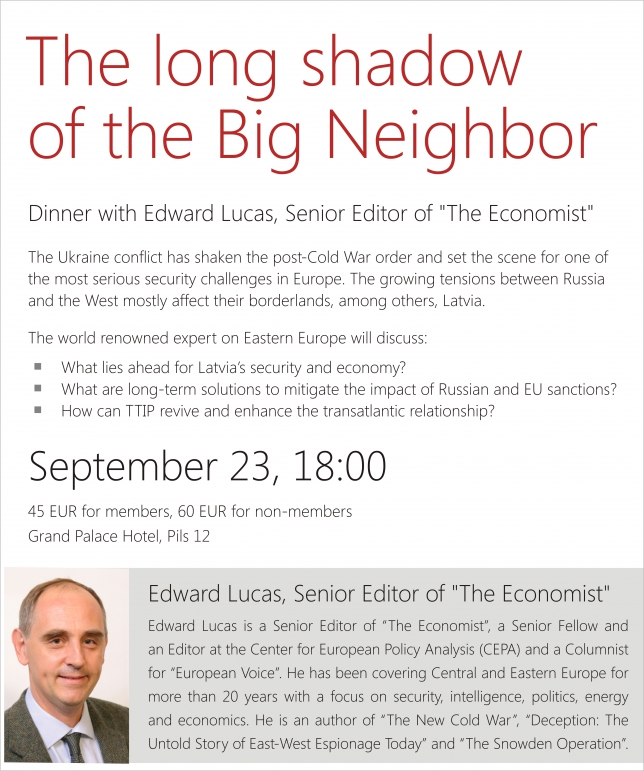 "Be brave, angry and strong" was the advice that Edward Lucas gave concluding his address to the AmCham community on Russian pressure.
Following the Ukraine conflict, Europe has woken up to new security challenges yet they have been in existence since the fall of the communism. According to Lucas, while the events of 1991 were regarded as great achievement to all the countries in the Central Eastern Europe including Latvia, Putin openly has referred to them as the greatest catastrophe of the 20th century.
The author of "The New Cold War" was explicit on the threats the world is facing from the current Russian regime – it is the global security order Putin desperately wants to change. "This is not one-off, but many people in the West still refuse to see that," Lucas said. "Putin sees a real chance of dividing Europe and we should be ready to show him that we are not scared. We need to be angry instead because we can push back on any of the Russian tactics."
Believing that the West is decadent and weak, Russia uses information warfare and economic pressure against the West advising: "Be nice to us and we'll give you profit".
The West should respond by keeping up the pressure on Russia and sending a clear message that we are ready to fight. No means can be underestimated: "Putin will try energy, cyberware and corruption. In his mind if he can attack the Baltics, he can attack NATO," Lucas told.
The worst case scenario for Latvia would be if Russia succeeded in humiliating it by creating a real influence in the government. Such sequence of events would ultimately affect Latvia-U.S. political and economic relationship. In the best case scenario, Merkel would save the day by sending a strong message to Russia to concentrate on themselves rather than on other people.
But because the Putin's regime is not supported by all Russians, the West should clean up its relations with Russians and not treat them with hostility. "We should constrain the bad behavior, but be friendly with honest, pro-western Russians," he said. A good idea would be to set up a Russian University in the Baltics to convey a message that "we are the best friends of good Russians and the worst enemy of the bad ones."
Lucas shared a refreshing opinion on the U.S. engagement in Europe: "Since China has the ability to challenge America, the U.S. needs to assure its allies in the South Pacific that they play their role in Europe right".
While the future outlook may seem gloomy, according to Lucas, Latvians should stay brave, angry and strong to be able to deal with Russia's influence.
< Back to News
Being part of AmCham is a great way to maintain business contacts with entrepreneurs and professionals.
Normunds Bergs, Chief Executive Officer, SAF Tehnika