Hotel Bergs reaps laurels again
Oct 29, 2014
Fantasy Park, Mūkusalas street 71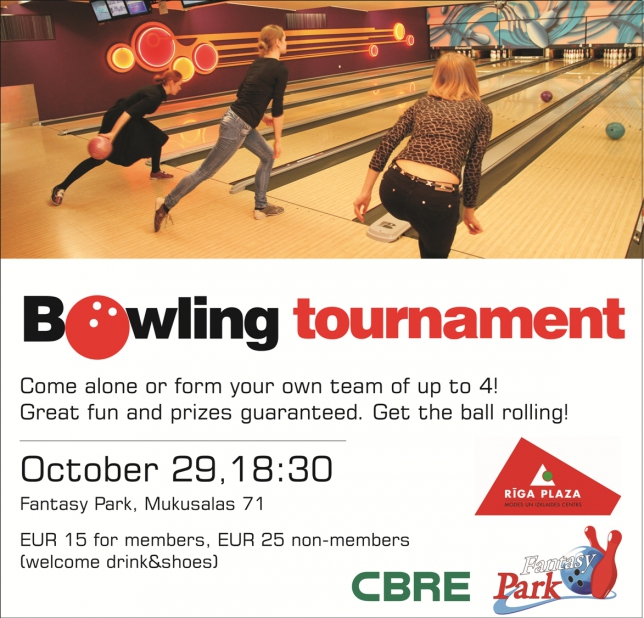 48 participants in 12 teams competed for prizes at the Annual Bowling Tournament. Each team played two games. 
10th Annual Bowling tournament was organized for AmCham members and guests at the Fantasy Park of Riga Plaza. This is our traditional autumn event. 
The Fantasy Park is an excellent place for fun together with friends, colleagues and family. It is the right place for a drink after work, a bowling tournament, or just to leave the kids burn off some energy.
This year 1st Place was awarded to the Hotel Bergs team for the second year in a row with average score of 1141. The winner was awarded with the AmCham Bowling Trophy, certificate and the season-ticket for one year from the Fantasy Park of Riga Plaza.
The Second Place winner was Gosselin Latvia team. 
The Best Male Player of the game was Sergejs Kostjučenko (IBM Latvija) with score 205.
The Best Female Player of the game was Iveta Valtere (CBRE) with score 114.
Congratulations to all the winners! Many thanks to the Fantasy Park, Riga Plaza and CBRE for prizes and for a great evening of networking and fun!
< Back to News
I look forward to promoting stronger U.S.-Latvia ties and working with AmCham members to ensure Latvia is a trusted destination for international business.
John Tully, Chairman of the Board of MikroTik