Getting into Christmas spirit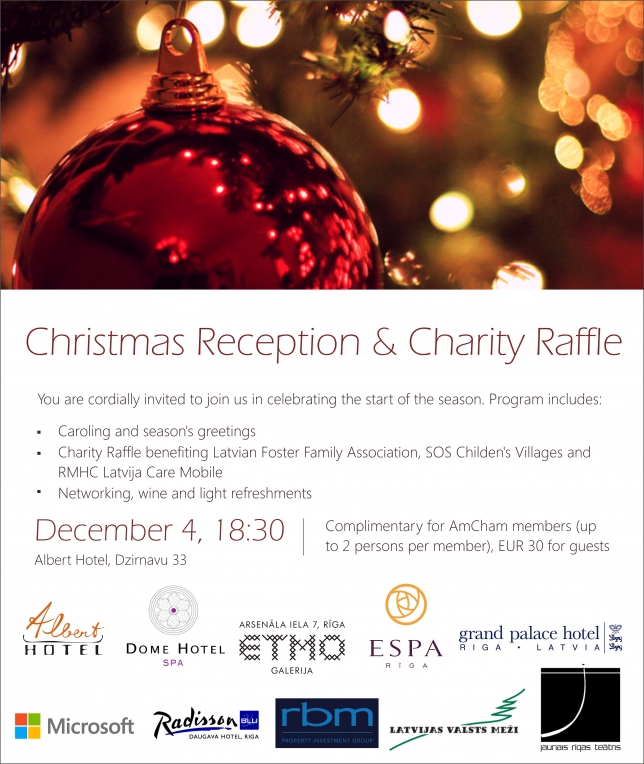 On December 4, AmCham hosted its Annual Christmas reception at the cozy premises of Albert Hotel on December.


Christmas greetings were presented by Sharon Hudson-Dean, Charge D'Affaires of the U.S. Embassy. The event was hosted by AmCham Vice President Arnis Kakulis.
Our hearts and souls were warmed by the performance of the soloists and choir of Valmiera SOS Children's Villages.
This year we supported three charities that help promote a healthy development of Latvia's children and their rights to grow up in a family environment. 900 EUR were collected in the charity raffle which will benefit the following charities: Latvian Foster Family Association, RMHC Latvija's Care Mobile and SOS Children's Villages in Latvia. Through two AmCham events this year we raised EUR 1500 for AmCham's three principal charities.

The possibility to meet children from SOS Children`s Villages and to hear them sing was a heart touching moment. It was a very special event and got us into the real Christmas spirit.
Thank you to all our members for your continued support throughout this past year!
Thanks to our supporters for wonderful charity raffle prizes provided particularly for this event. Our gratitude goes to Albert Hotel, DiatomArt, Dome Hotel & SPA, ESPA Riga, ETMO, Grand Palace Hotel, Microsoft Latvia, New Riga Theatre, Radisson Blu Daugava Hotel, R.B. Management and Taka SPA who made this event special.
SOS Children's Villages
Latvia is a social charity organization that provides a long-term family based care for children who have lost their parents. It also carries out family strengthening programs, helping high risk and financially struggling families to improve their situation, so that children at risk could stay in the caring environment of their own biological families. The organization operates in Latvia since 1997.
RMHC Latvij
a
is a mobile health care center program, which works in partnership with the Latvia State Children's Hospital and provides regular free primary medical care to children in need, all over Latvia.
Latvian Foster Family Association
(Latvijas Audžuģimeņu biedrība) is a non-governmental organization, founded in 1994 with the objective of promoting raising orphans or children left without parental care in a family environment. The Association is comprised of more than 175 families from different regions of Latvia.
< Back to News
AmCham is a 'must-join' organization for any company of scope or international ambition.
Karlis Cerbulis, Senior Vice President of NCH Advisors, Inc.