How to make it to the U.S.?
Feb 12, 2014
Palladium concert hall, Marijas 21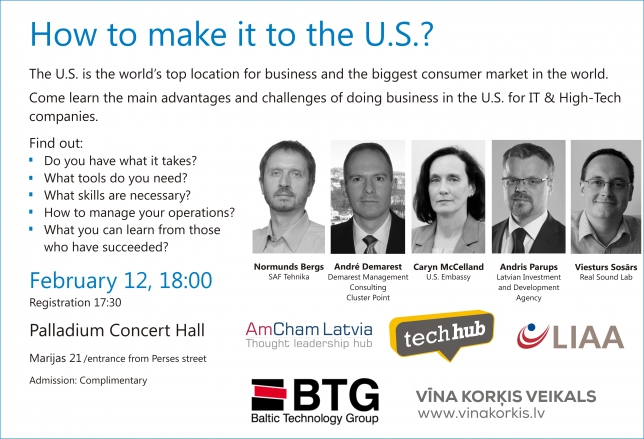 AmCham together with the Investment and Development Agency of Latvia and TechHub Riga hosted a seminar about the U.S. market with a special focus on high-tech and startup industry. Close than 100 people attended to hear first-hand experiences from business leaders about their successes and challenges when establishing a business in the U.S.
The seminar highlighted the necessary skills and tools for those who think about conquering the U.S. market. We heard success stories and received good pieces of advice from experienced business leaders and government representatives:
Normunds Bergs, SAF Tehnika
André Demarest, Demarest Management Consulting; Cluster Point
Andris Parups, Investment and Development Agency of Latvia
Caryn McCelland, U.S. Embassy
Viesturs Sosārs, Real Sound Lab
The event was moderated by Ingrīda Kariņa-Bērziņa, Partner, Raidla Lejins & Norcous Law Office and Board Member of AmCham Latvia.
To encourage the spirit of entrepreneurship AmCham supported the largest annual conference for European startups TechChill Baltic on February 13 and related events Leancamp and Mini Seedcamp on February 12.
Many thanks to our supporters who made this event possible: Baltic Technology Group and Vīna Korķis.
Presentations
To view the presentation of André Demarest
Watch the videos of the seminar:
Speakers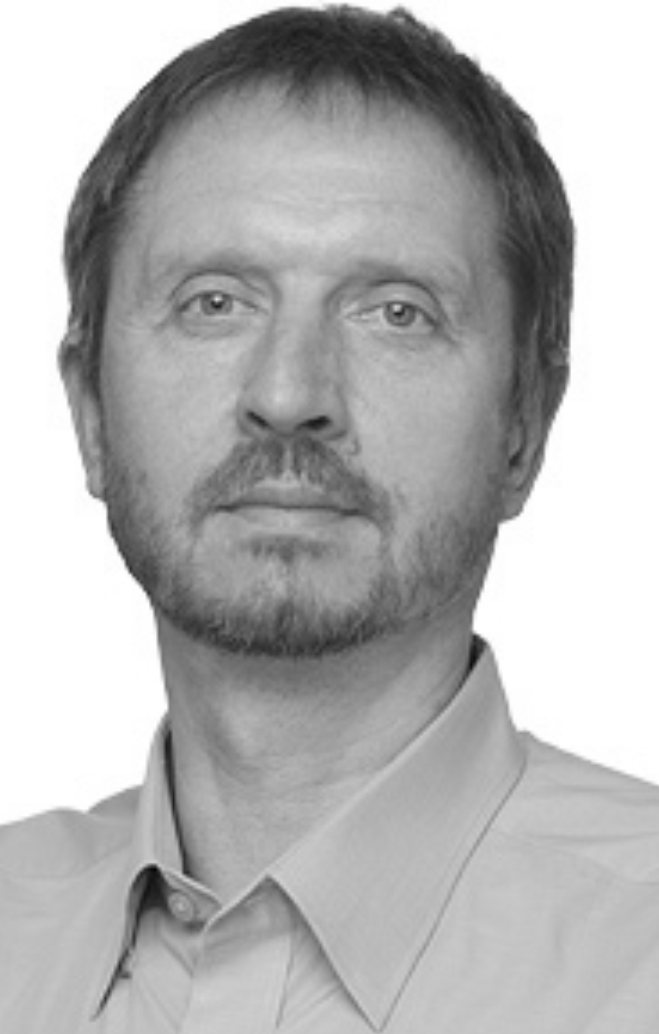 Normunds Bergs, SAF Tehnika
Normunds Bergs is Chairman of the Board and Chief Executive Officer of SAF Tehnika. He is one of the founders of Fortech (co-founding company of SAF Tehnika) where during the periods from 1990 to 1992 and 1999 to 2000 he acted as Managing Director and General Director, respectively. Following Fortech's merger with Microlink in 2000, and establishment of SAF Tehnika, Mr. Bergs became CEO of SAF Tehnika and a Member of the Management Board of Microlink. He is a long-term President of Latvian Electrical Engineering and Electronics Industry Association and member of the Supervisory Council of Latvian Chamber of Commerce and Industry.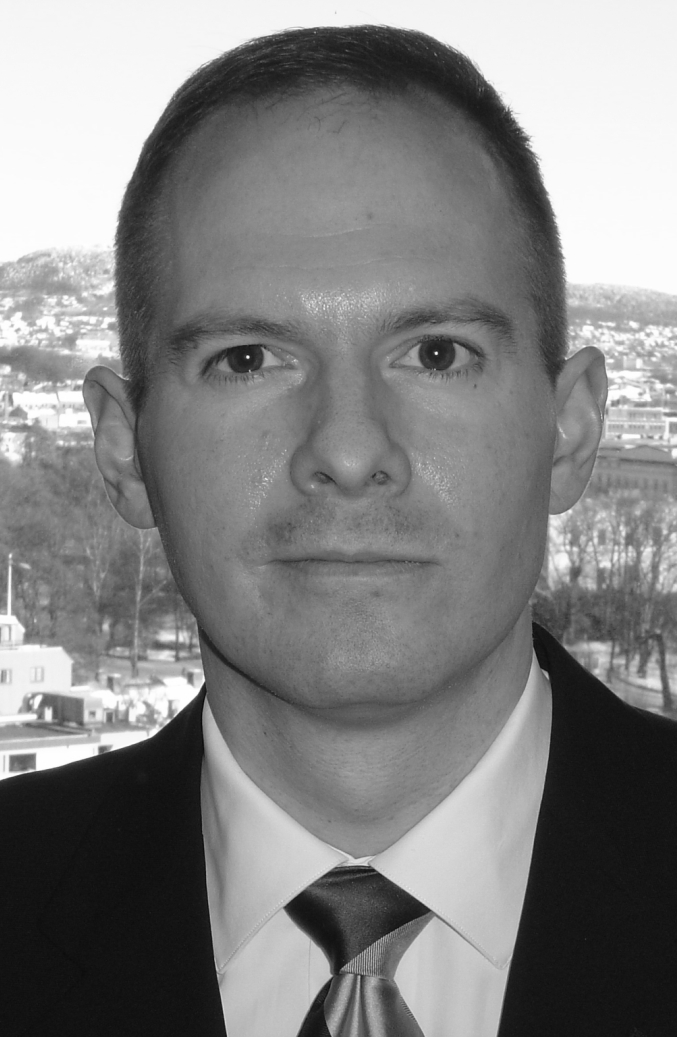 André Demarest, Demarest Management Consulting; Cluster Point
André V. Demarest currently represents Demarest Management Consulting LLC, which provides strategic, financial and other types of management consulting services primarily to ICT companies. From January 2014 Mr. Demarest is serving as the interim CEO of Cluster Point SIA, an enterprise search company. He is also a private investor and former board member of Fastr SIA, a mobile application company. Previously, he was a board member and CFO of Birdstep Technology ASA, a mobile software company, and had CFO+ responsibilities at Fast Search & Transfer ASA, an enterprise search company sold to Microsoft in 2008.
Andris Parups, Latvian Investment and Develpoment Agency
Andris Pārups has more than 13 years experience working with pojects in the private and public sector. Andris joined the Investment and Development Agency in 2012, and currently manages the Export Promotion department to help Latvian enterpreneurs to enter markets abroad. Andris has previously worked in finance consuling and audit companies Deloitte and PwC as well as the Ministry of Economics, where he managed the Public Private Partnership department. Andris has graduated form Riga Business School with Master's degree in Business Administration (MBA).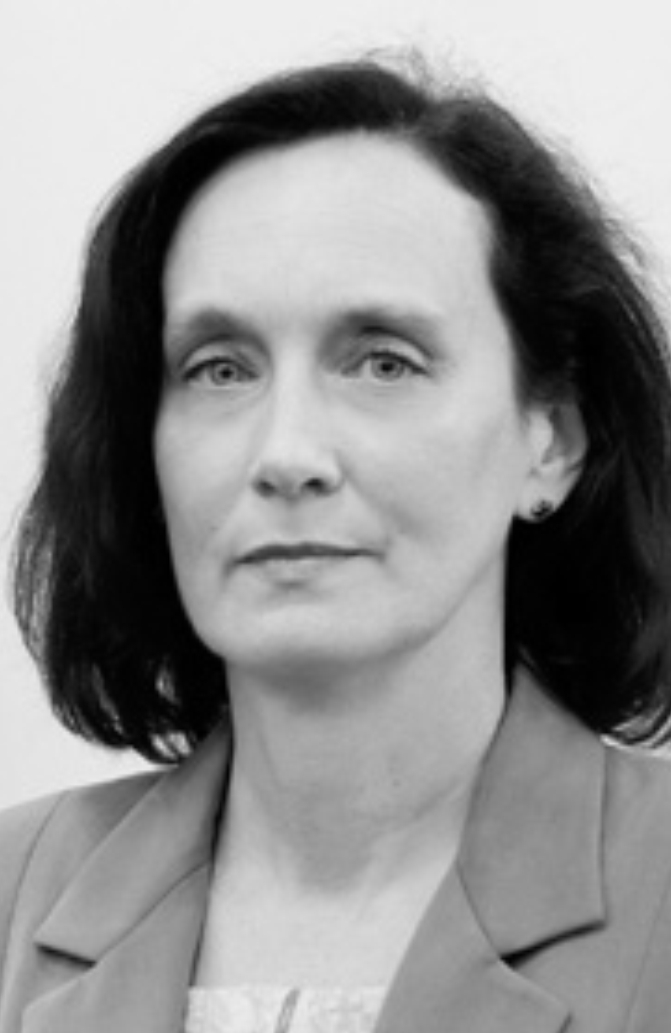 Caryn McCelland, U.S. Embassy
Prior to this assignment, Ms. McClelland served as the Consul General at the U.S. Consulate General in Surabaya, Indonesia, covering the Eastern half of the Indonesian archipelago from East Java to the Malukus, including the U.S. Consular Agency in Bali. She previously served as the Political-Economic Counselor in Baku, Azerbaijan; the Deputy Economic Counselor in Kuala Lumpur, Malaysia; the sole Political-Economic Officer in Ashgabat, Turkmenistan; and as a Consular Officer in Dublin, Ireland. Ms. McClelland also served as a Senior Advisor to the Special Advisor to the President and Secretary of State for Caspian Basin Energy Diplomacy and as the Eurasia Regional Energy Officer in Washington.
Viesturs Sosārs, Real Sound Lab
Viesturs Sosārs is actively engaged with tech startups in Latvia since 2003. He is serial entrepreneur and business angel, as well as has managed a local boutique VC fund in the past. Viesturs is the co-founder and CEO of Real Sound Lab – a globally known audio technology company. He has also co-founded TechHub Riga, a popular collocation space for Latvian tech startup community. Viesturs frequently mentors within accelerator programs in Baltics and Finland, and since 2012 he is Course Director of Entrepreneurship Specialization course at Stockholm School of Economics in Riga.
< Back to News

Together with AmCham we can develop our networking not only in the local market with local companies, but also reach out to good partners far away from Latvia.
Ugis Grigorjevs, Head of Sales at Nordwoc