Seven chambers of commerce welcome introduction to the Euro area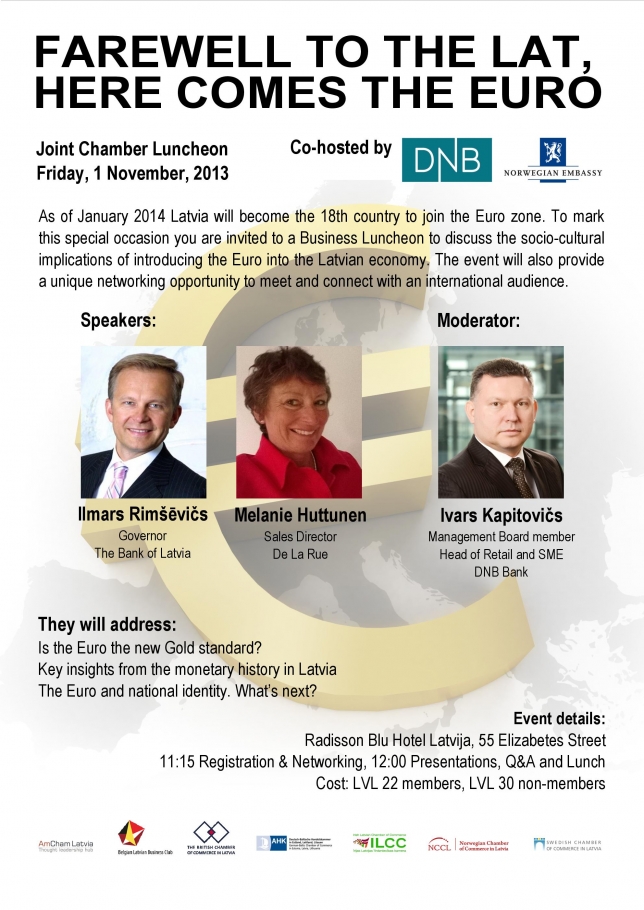 The American, Belgian, British, German, Irish, Norwegian and Swedish Chambers of Commerce in Latvia held a luncheon themed "Farewell to the Lat, here comes the Euro" to discuss the socio-cultural implications of joining the common currency used by more than 330 million people. The event took place on November 1 at the Radisson Blu Hotel Latvija.
Joining the luncheon as Keynote speakers were Ilmārs Rimšēvičs, Governor of the Bank of Latvia and Melanie Huttunen, Sales Director of De La Rue, the world's leading commercial banknote printer. The event was moderated by Ivars Kapitovičs, Management Board Member and Head of Retail and SME of DNB Bank.

Over 120 guests had a chance to reflect on the monetary history of Latvia and discuss the implications of the Euro accession to the Latvian economy.

The event was co-hosted by DNB Bank and Royal Norwegian Embassy in Latvia.
Media coverage:
View video from TV5 News on November 1, 2013 (News 6:19-8:47)
News Agency Leta, November 1, 2013

< Back to News

AmCham is based on values and behaviors that enable its members to fulfill a common purpose - a sustainable and transparent business environment, and we are truly proud to be a part of this growing community.
Edgars Skvariks, Corporate Public Affairs Manager at Bayer