Truth or Delusion: everything about your eyesight
Nov 26, 2013
Latvian American Eye Center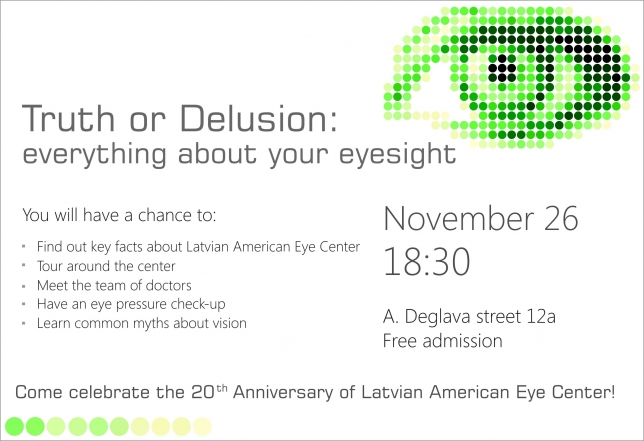 Latvian American Eye Center was founded 20 years ago by an American Professor John Joseph McDermott. We had the honor to celebrate this special occasion together with the staff of Latvian American Eye Center on the very eve of its anniversary.
It was an exciting and educational event for all who attended – we had a tour around the Center together with doctors and found out basic facts about vision and various surgeries. Also, we were tested about the truth and myths of eyesight. Do you know if one has a good vision if they have an eagle's eye?
We enjoyed a musical performance by a saxophonist at the beginning of the event. The yard was decorated with 20 candles. Delicious food, sparkling wine and the birthday cake with sparkler candles made a very special and warm atmosphere.
Many thanks to the Latvian American Eye Center and Una Bruna, Chairwoman, Iveta Lārmane and Dr. Arthur Giebel and the entire team of doctors and staff – you made this event special for AmCham members and we spent a really great time together.
< Back to News
Being part of AmCham is a great way to maintain business contacts with entrepreneurs and professionals.
Normunds Bergs, Chief Executive Officer, SAF Tehnika