3-week RBS Greenhouse program to try out business and IT studies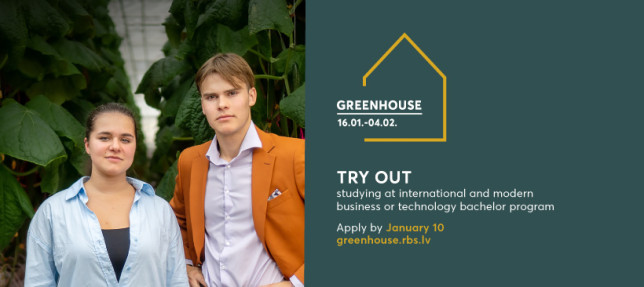 RBS Greenhouse is a 3-week program taking place in January and February of 2023, and it prepares ambitious and motivated high school students for bachelor-level studies. It is a great opportunity to learn about studying at RBS to make a thoughtful choice when selecting a higher education institution. You will experience how we work, which is as practical as possible and involves many industry experts and leaders as well as competing for valuable prizes. Application deadline January 10, 2023! Apply HERE!
Apply for the RBS Greenhouse program if you want to:
Explore the study process, methods, and courses;
Try out studying in the BBA (Bachelor of Business Administration) and/or BITL (Bachelor of IT & Leadership) to understand if studying business or business plus IT is for you;
Meet faculty members, current students, and alumni who will share valuable insights;
Learn from practitioners and experts from leading companies in the Baltics;
Get to know other like-minded students from all over Latvia;
Receive extra points for admission in RBS and compete for a scholarship as well as discounts for studying in RBS!
About the program:
For two weeks you as a student will have lectures from RBS and workshops from the partner companies. You can choose the BBA track, BITL track or mix modules, attending those lectures and workshops you like the most to try out both bachelor programs.

The preparation session and week 3 are exactly the same for all students. After the preparation session, you will work on a Tietoevry business challenge in a randomized team with mentor (RBS students) support. You will be able to choose to work on one of the multiple challenges that are created based on real-life situations. The closing event of the program is a pitching session where the winner will be announced.
< Back to News
I look forward to promoting stronger U.S.-Latvia ties and working with AmCham members to ensure Latvia is a trusted destination for international business.
John Tully, Chairman of the Board of MikroTik