How to stay safe, healthy and sane at work?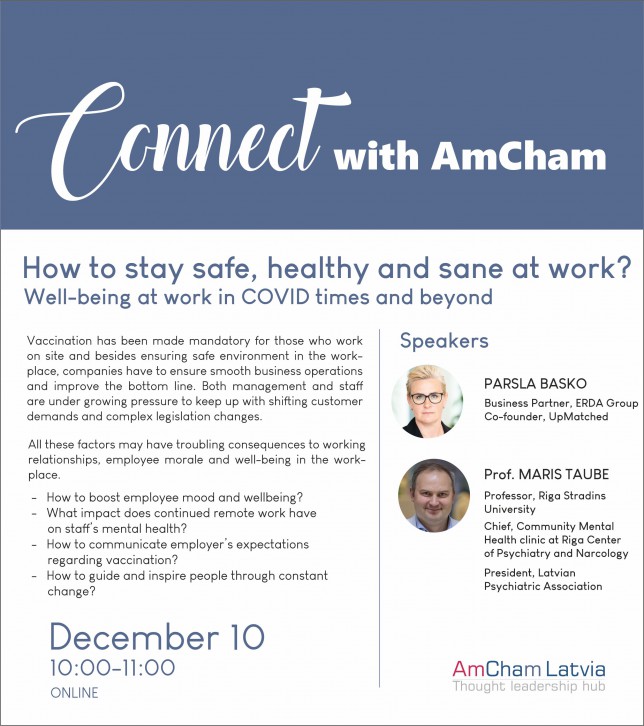 Our concluding webinar of 2021 in Connect with AmCham series focused on well-being of employees, their mental health and ways to communicate and lead them throughout constant change. Inspiring experts Pārsla Baško of ERDA and Māris Taube, Professor of RSU gave valuable tips for employers on how to deal with difficulties in workplace caused by the emergency situation.
Pārsla Baško explained that main reason for vaccine hesitancy of employees is caused by uncertainty and lack of right information. She suggested employers to use role models and lead by example, educate employees as well as provide structural support with paid hours and a sick day to get a vaccine.
To view the presentation of Parsla Basko
To view the presentation of Maris Taube
About the Speakers:


Pārsla Baško, ERDA
Pārsla Baško is one of the Baltics' leading experts in strategic HR, corporate branding, communications and employer branding. She has worked in key positions at international companies such as Rimi Baltic Group, Carlsberg in the Baltic States, and Schneider Electrics. Pārsla has significant experience in large-scale business strategy change management projects, including successfully working as a lead expert on merger and sensitive business transformation projects. Ms. Baško holds a professional master's degree in business administration from the Stockholm School of Economics in Riga.


Maris Taube has been working for 20 years in public health, public mental health, health economics and health care areas. He has served for ten years as National counterpart at the WHO European Region Mental health program, for six years as Member of Board at European Monitoring Centre for Drugs and Drugs Addiction and Member of the European Commission Committee of Alcohol Policy and Action. He has been director of National Health Service for three years (2012-2014) and was responsible for health care financing system in Latvia. He is a professor (community and social psychiatry) at Riga Stradiņš University Department of Psychiatry and Narcology, takes part in different projects (Co-chair of the NATO Science and Technology Organization Panel of Human Factors and Medicine Research Task Groups (HFM-RTG 218 "Military Suicide" and HFM-RTG 277 "Military Leadership"), members of the COST project IS 1302 "Towards an EU research framework on forensic psychiatric care" and other projects. He is a chief of the Community Mental Health clinic with in-patient department for depression, anxiety "Veldre" of the Riga Centre of Psychiatry and Narcology, he also works as psychiatrist in outpatient and in-patient departments, he is the President of Latvian Psychiatric Association.
< Back to News
AmCham is a 'must-join' organization for any company of scope or international ambition.
Karlis Cerbulis, Senior Vice President of NCH Advisors, Inc.