LIAA launches office in Boston
Apr 03, 2022
Sip Cafe in P.O. Square, Boston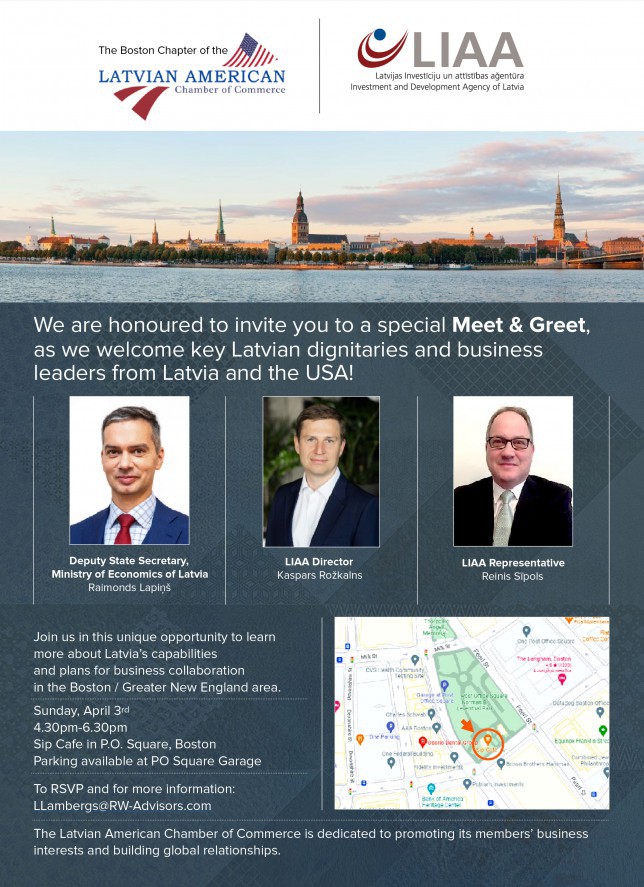 On April 3, the Latvian American Chamber of Commerce and Investment and Development Agency of Latvia (LIAA) organized a special LIAA representative office opening event in Boston by introducing the Head of this office Reinis Nikolajs Sīpols. The event was opened by Kaspars Rozkalns, LIAA Director and Janis Vitenbergs, Minister of Economy. On April 5, another LIAA representative office in North America was launched in Toronto, Canada.
Boston and Toronto were chosen as places to expand the network of LIAA offices with the aim of building closer ties in the smart specialization industries, thus providing support to Latvian companies wishing to export or attract investment from North America. "As one of the priority markets outside the EU, Latvian entrepreneurs mention North America. This is the direction in which we want to develop cooperation. Several of our companies, such as Printful or SAF Tehnika, have expanded their activities in the North American market, Riga Technical University signed a cooperation agreement with the prestigious Massachusetts Institute of Technology two years ago, and Toronto is still one of the largest diaspora communities in Latvia. These factors are also a good basis for strengthening economic relations, "says Kaspars Rožkalns, Director of LIAA.
The LIAA Representative Office in Boston will be led by Reinis Nikolajs Sīpols, who represents the Latvian diaspora in the United States and has gained significant experience in managing several companies in the mining and other industries.

"Boston is a major business center in the United States, with rapid growth in biotechnology, biomedicine and other smart specialties. We usually hear very good feedback from those US companies that have cooperated with Latvia, so we should take every opportunity to tell more about ourselves. The war in Ukraine has made the Baltic states more visible in North America. The Baltics and Eastern Europe as a whole will also be the focus of the United States economically in the coming years. This means that we can fit into the wider supply chains, which are currently collapsed due to the geopolitical situation, "said R. Sīpols.
< Back to News
We joined AmCham as a community of shared values to expand our access to global competencies and to foster the quality of the health ecosystem.
Agrita Kiopa, Vice Rector for Science, Riga Stradins University