Celebrating 30 years in Latvia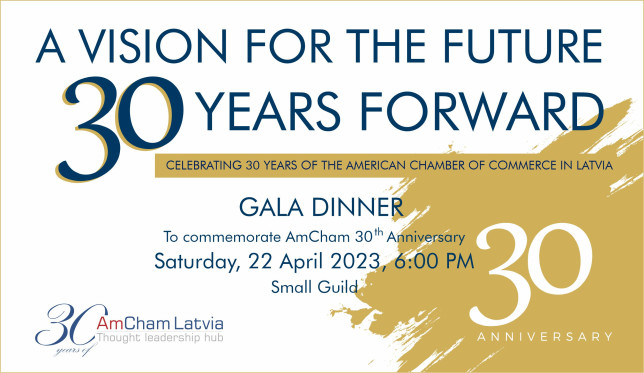 More than 200 members and guests celebrated AmCham 30th Anniversary with a festive black-tie dinner last Saturday, April 22 at Small Guild and the participation of distinguished guests President of Latvia Egils Levits, U.S. Ambassador Christopher Robinson, former President of Estonia Toomas Hendrik Ilves and Mayor of Riga Martins Stakis.
Here's a look back at the event:

AmCham reflected on the evolution of the organization and offered an overview of the most significant milestones of AmCham. Special recognition was offered to the AmCham past and present board members, presidents, vice presidents and founding members. The founding members include Baltic Technology Group, Ellex Klavins (former Klavins & Slaidins), EY, IBM, Radisson Blu Daugava Hotel, Skudra & Udris (former Caroll, Burdick & McDonough) and Valters Kronbergs, all of whom have been continued members of AmCham throughout its existence.

The Asmanis Big Band and music artist Elza Rozentale, pianist Robert Fleitz and musical trio "Insieme" performed music by the greatest American composers. AmCham's former Presidents Ingrida Karina-Berzina and Jerry Wirth hosted the event.
Additionally, a charity auction was conducted raising €3150 in benefit of Children's Hospital Foundation, Latvian Foster Family Association and SOS Children's Villages.

Congratulating AmCham President Levits said: "AmCham has been an invaluable partner in economic life of Latvia since 1993 providing an important network and platform for businesses that want to invest in Latvia. AmCham contribution is much appreciated."
In his remarks the U.S. Ambassador Robinson emphasized: "For the past 30 years, AmCham has been an excellent partner in addressing key issues in both business and society. We have worked together to build a better business environment in Latvia, to increase foreign investment, and to create new jobs, in order to keep Latvia's top talent here at home and build a better Latvia. I know our strong partnership will endure and grow stronger as we focus on the hard work of delivering results for our people."
Former President of Estonia Toomas Hendrik Ilves addressed AmCham members by saying: "Since 24 February I think we all have come to realize how important the trans-Atlantic tie is for us. When we see the dithering on weapons for Ukraine, talk of Strategic Autonomy by countries that don't pull their own weight in NATO as it is, it's only natural that we value US leadership as much as many resent it."
In his opening remarks AmCham President John Tully noted the role AmCham will continue to play in Latvian society: "Our vision for the future of AmCham goes beyond commerce and focuses on addressing major issues we are facing today concerning security, sustainability, human capital, and healthcare — with the goal of improving life in Latvia. When we come together, we can improve the future for ourselves and our children, by creating more opportunities in Latvia. And by doing so, we make Latvia stronger, more resilient, and prosperous."

AmCham Anniversary is powered by Cognizant, McDonald's, Medtronic and Novartis. The Anniversary Dinner was supported by Gosselin, Baltic American Freedom Foundation, Ellex Klavins, Eversheds Sutherland Bitans, EY, Luminor, Spīgulis & Kukainis.

Take a look at the picture gallery of the last 30 years HERE and the video featuring AmCham board and members HERE.
Take a look at our Anniversary year videos featuring our board members and sponsors:
Feedback and AmCham performance and looking ahead:
Dita Erna Sīle, AmCham Board Member and Public Affairs & External Communication Head of Novartis Baltics:
AmCham Vice President Pauls Miklasevics:
AmCham Vice President and Director of Riga Graduate School of Law, Ieva Racenaja:
Edgars Labsvirs, Health Policy and Market Access Manager Baltics:
Kim Leandersson, Head of Cognizant Baltics:
Vladimir Janevski, Managing Director of McDonald's Baltics
Kerli Vares, Head of Luminor Latvia
Juris Ulmanis, Former AmCham Board and Founding Member
< Back to News

AmCham is based on values and behaviors that enable its members to fulfill a common purpose - a sustainable and transparent business environment, and we are truly proud to be a part of this growing community.
Edgars Skvariks, Corporate Public Affairs Manager at Bayer