AECOM receives CSR award for donating Mucenieki playground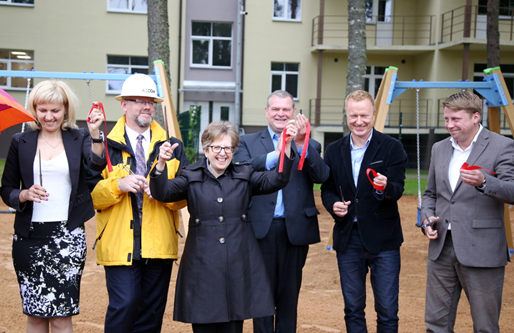 AECOM Baltics had submitted the project for internal AECOM recognition in September 2017 and it has been awarded the Q4 FY17 Corporate Social Responsibility (CSR) award for donating its in-kind services to support the US Embassy in Riga initiative to develop a children playground next to refugee center in Mucenieki community (Ropazi municipality, Latvia).
AECOM provided pro-bono project management and coordination services, technical supervision, safety consultation, on-site support and assistance during construction. AECOM assessed various playground equipment options and layouts, to support the selection of the safest and most appropriate option for various age groups. AECOM prepared all necessary documentation for receipt of building permit and coordinated cooperation among various involved implementation stakeholders.
All 17 AECOM Baltics employees supported this initiative that lasted approximately 4 months with the official opening ceremony on August 22, 2017. The initiator of this donation was Arnis Kakulis (AECOM, Director of Baltic region and Vice President of AmCham Latvia) together with his team: Gatis Kletnieks (Project Manager), Girts Vanags (Project Architect), Reinis Berzins (Cost Manager), Egons Silis (Technical Supervisor and SHE Coordinator), Linda Dzerkale (Project Administrator), Marcis Jaunzemis, Juris Krastins and Adam Schwartz (on-site support).
< Back to News
Being part of AmCham is a great way to maintain business contacts with entrepreneurs and professionals.
Normunds Bergs, Chief Executive Officer, SAF Tehnika