AmCham and LCCI will work closer together to promote bilateral trade and investment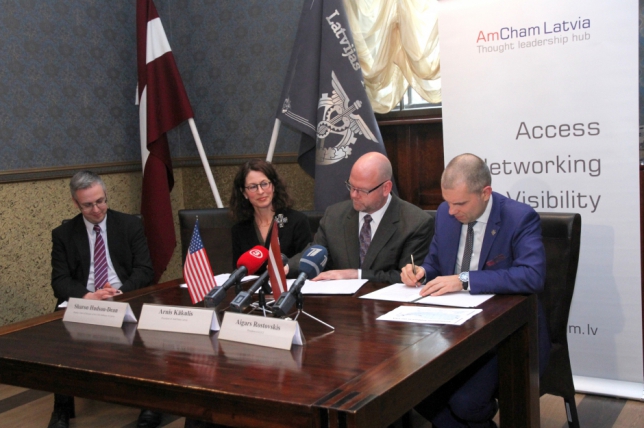 On March 9, 2016 AmCham Latvia and the Latvian Chamber of Commerce and Industry (LCCI) signed a cooperation agreement.
Statistical data on bilateral trade indicate that only 1,3% of all Latvian exports reach the USA, but the trend is promising and Latvian exports of goods and services continue to increase. The U.S. ranks as the 9th largest investor in Latvia with over EUR 312M accumulated FDI in share capital of companies, while Latvian FDI in the U.S. was slightly over Eur 2,8M in 2014, but in the first 9 months of 2015 reached EUR 10,8M, increasing almost fourfold.
The said data as well as the feedback received from Latvian entrepreneurs attest to endless opportunities for expanding bilateral trade and investment relationship. With the upcoming Transatlantic Trade and Investment Partnership agreement (TTIP) these opportunities will only grow, especially for small and medium size companies. The economic relationship between the EU and the U.S. is the largest and strongest in the world accounting for about half of global GDP. If Latvia were to tap into this massive trade flow and reach even 0,5% of this trade value, its trade with the U.S. would be 11 times bigger than it is today.
In order for Latvia to get ready for this major deal and don't miss the chance, AmCham and LCCI have called Latvian policy-makers to establish a permanent trade office of Latvia in the U.S. We think it is a critical component to increase Latvia's presence in the U.S., develop its export potential and attract more U.S. investment to Latvia.
AmCham is delighted to partner with LCCI to strengthen the work on promoting bilateral trade and investment. Together with LCCI AmCham has launched a new initiative entitled Gateway to the USA that will help develop business ties and extend practical support to Latvian companies looking to start or expand their business activity in the U.S.
< Back to News

AmCham works hard to accomplish its goals and is a voice in the business community that is heard.
Filips Klavins, Managing Partner at Ellex Klavins