AmCham EU visits Latvia prior to Latvian Presidency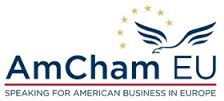 AmCham Latvia supported the planning of the delegation visit of
AmCham EU
in December in Riga. The AmCham EU delegation represents a selection of their most senior and influential member companies from a wide range of sectors. The aim of the visit was to engage the upcoming Council of the European Union Presidency governments on issues critical to the European economy, in order to align agendas and contribute meaningfully to progress in European competitiveness and EU-US relations.
During the visit, the delegation held a series of Presidency-themed meetings with various government representatives to discuss the Latvian Presidency priorities as well as to present business recommendations to reach common objectives for a stronger and more competitive Europe. The Recommendations to the Latvian Presidency are centered around five key areas: building skills for the future, furthering integration of the single market, promoting revolutionary change for industrial leadership, developing new models of innovation and entrepreneurship, and fostering Europe's leadership in an integrated global economy. Click here to read the Recommendations.
About AmCham EU
AmCham EU speaks for American companies committed to Europe on trade, investment and competitiveness issues. It aims to ensure a growth-orientated business and investment climate in Europe. AmCham EU facilitates the resolution of transatlantic issues that impact business and plays a role in creating better understanding of EU and US positions on business matters. Aggregate US investment in Europe totalled €2 trillion in 2013 and directly supports more than 4.3 million jobs in Europe.
< Back to News

We are very pleased to be part of AmCham and are looking forward to driving innovation forward in Latvia.
Mikko Fernström, General Manager, Biogen Latvia