New President for AmCham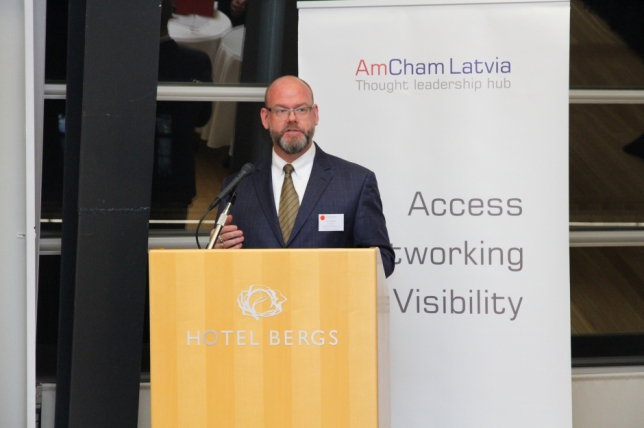 The Board of Directors has unanimously selected Arnis Kakulis as AmCham President and Chairman of the Board, effective immediately. He has served on the Board since 2013 in the roles of President (2015-2017) and Vice President (2014-2015; 2017-2018). He replaces Eriks Eglitis, who resigned from the post after becoming the Secretary of State at the Ministry of Economics earlier this month.
Arnis is the Managing Director of the Baltic Region for AECOM. Previously, in his 8-year tenure with OWP/P, a Chicago-based 300 person multi-disciplinary architecture, engineering and consulting services firm, Arnis was a Principal and the Director of the Consulting Practice, specialized in the business development and management of corporate, health-care and education projects. Arnis earned both his Master of Architecture and Master in Urban Planning at the University of Wisconsin-Milwaukee School of Architecture and Urban Planning.
According to Arnis, "Fostering and promoting trade, investment, partnership and friendship between the United and Latvia have been in the core of AmCham's mission since our establishment 25 years ago. Over the past few years AmCham has been particularly devoted to advocating for a stronger trade and investment between our two countries, and I am thrilled to be part of it."
He added that: "AmCham is a member-driven organization and as such will remain devoted to our members' insights that are ultimately aimed at improving the business climate in Latvia. We will continue to stand up for our values, take the lead in accomplishing our goals and strive to uphold excellence in all our operations".
The Chamber is delighted to welcome Arnis as the President and is looking forward to his leadership and vision to contribute to the continued AmCham success.
< Back to News

AmCham is a great place for networking, exchanging ideas and generating new business directions.
Peteris Kokovkins, Director of Baltic Technology Group