Calling for sustainable, efficient and equitable healthcare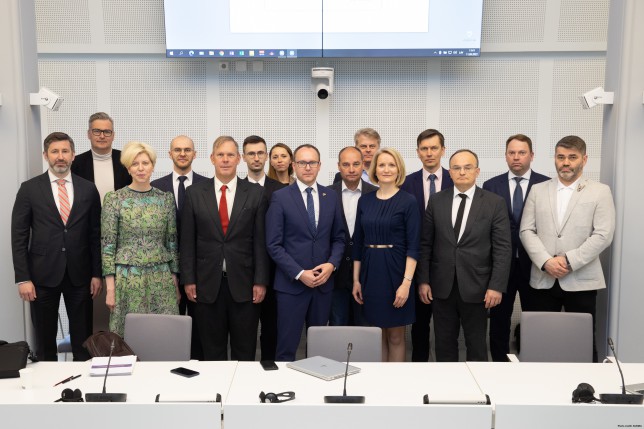 On May 11, AmCham released a position statement calling for sustainable, efficient and equitable healthcare financing model by proposing to align healthcare funding to the EU average to ensure improved patient care and introduce a value-based healthcare financing model and integrated healthcare approach. The AmCham Healthcare work group members presented the position to three Saeima Committees - the Budget and Finance, the Social and Employment Matters and the Sustainable Development - earlier the same day.

According to AmCham President John Tully: "A healthy society is crucial for the future of Latvia. It is also crucial in securing investment and ensuring further economic growth. Investments in people are vital to their well-being contributing to a more resilient society. Sustainable and efficient financing for health will ensure a healthier population and better patient outcomes and the growing prosperity of Latvians."
AmCham emphasizes that healthcare financing is crucial for improving health and developing human capital in the long-term. OECD data shows that an increase in health spending explained 46% of male and 39% of female gains in life expectancy at birth. No other factor – GDP, education, pollution, or lifestyle characteristics – was shown to play a larger role in lengthening lives than health expenditure. Recent research in Estonia shows, that investing one euro in healthcare produces a return of 2.4 euros and each person would gain an average of 28 days of healthy life per year.
AmCham calls policymakers to significantly increase the healthcare budget to reach the current EU average by 2027 for public investment in health reaching 8% of GDP (while in Latvia it was 4% of GDP in 2020) and for a balanced healthcare budget to ensure the growth of out-patient therapies (reimbursable medicines) in proportion to the overall budget increase, which provides services to more than 700,000 Latvians annually.

AmCham emphasizes the necessity to link the increase of healthcare financing with the efficiency of healthcare spending and patient outcomes that can be implemented by focusing on integrated healthcare and the development of a value-based healthcare model. The value-based healthcare model will improve patients' health outcomes and the healthcare system in general while ensuring healthcare cost control and integrated care will benefit chronic patients. In addition, AmCham stresses the need to continue the development of health technology assessment and other health economic tools, invest in innovative technologies and medicines as well as develop a well-governed digital health ecosystem.

AmCham believes that sustainable, efficient and equitable healthcare financing will ensure the preservation of the health of the population, thus promoting employment and economic competitiveness of Latvia.

The view the position statement in English: CLICK HERE
The view the position statement in Latvian: CLICK HERE

Photo credit: Saeima
< Back to News

We are very pleased to be part of AmCham and are looking forward to driving innovation forward in Latvia.
Mikko Fernström, General Manager, Biogen Latvia