AmCham seeks Marketing & Communications Intern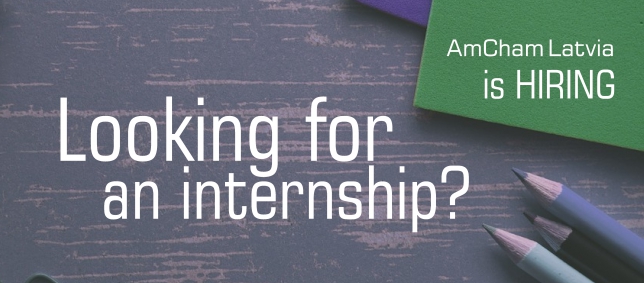 AmCham Latvia is seeking Marketing and Communications Intern among the best and brightest young leaders. At the Chamber, you will obtain hands-on, meaningful work experience designed to meet your academic and career goals. Our internships offer responsibilities such as research, writing, database management, webpage maintenance, communications, and event preparation. During your internship, you will be able to network with colleagues and senior-level executives while participating in educational and professional activities designed to enhance your internship experience.
The following events are included in our internship program:
Luncheons
Business After Hours
Outlook seminars
AmCham's 25th Anniversary Gala Dinner
Member Focus Lunch
Seminars on the U.S. market
Annual General Meeting
And others
Job Qualification:
Intern candidates should be internet and social media proficient, dependable and trustworthy, proficient in Microsoft Office (i.e. Word, Excel, etc.), able to work independently and also within a group setting, have a professional demeanor. A background in Photoshop, Corel Draw or video software skills is also recommended, but not required.
Job Description:
Contribute articles and/ or event reviews to the AmCham website. Assist with print, social media and web projects. Copy-editing, writing and proofing all communication and marketing media. Attend Chamber events to take notes and photos. Assist with various media as needed: social media, data tracking, infographics and analytics. Researching the latest marketing trends. Participate in brainstorming concepts for upcoming projects. Miscellaneous tasks as they arise or as specific interests develop.
Candidate Profile:
• A passion for and comfort with social media. Our intern must use social media personally, especially networks such as Twitter, Facebook and LinkedIn.
• Excellent written and oral communication skills in English to be able to clearly communicate.
Duration of internship: 6 weeks extendable. Part-time internship.
Certification: Interns will receive a certificate of appreciation upon completion of the internship.

To apply, please send a CV and a one page cover letter to amcham@amcham.lv
< Back to News
We joined AmCham as a community of shared values to expand our access to global competencies and to foster the quality of the health ecosystem.
Agrita Kiopa, Vice Rector for Science, Riga Stradins University