AmCham unveils recommendations to improve Oncology Data Registry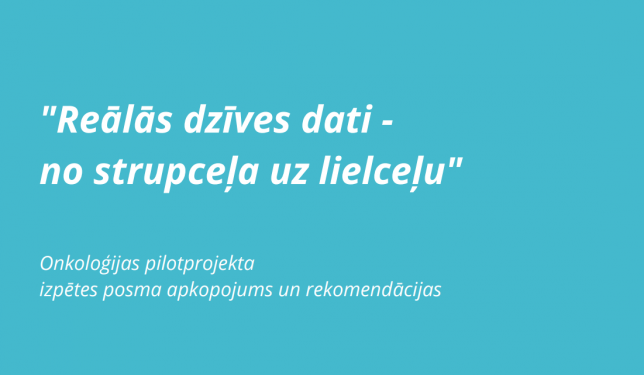 In order to improve the Latvian Oncology Patient Registry, AmCham has initiated and concluded an extensive study in close cooperation with the Ministry of Health, National Health Service and Disease Control and Prevention Center.
On October 15, the results of the study were presented to the leaders of sector, including the Minister of Health, chairs of leading clinics and authorities, and leading doctors. Among the proposals are improving the existing system so that data from clinics are automatically transferred to national register PREDA. The next step is to streamline processes, including improving content and ensuring data synchronization across different systems. The ultimate goal is to create new oncology data entry process with an entirely new tool which would ensure the input and use of meaningful, qualitative data that will improve patient outcomes, advance research and health policy planning.
AmCham President Zinta Jansons, who concurrently serves as the Chair of the AmCham Healthcare Working Group, says: "We appreciate the response and contribution of leading doctors, clinical hospitals and representatives of the public sector in this study. We are pleased with the extensive expertise gained through this project and look forward to further cooperation with stakeholders striving to achieve a person-centered, meaningful oncology data registry improving the lives of Latvian patients. The improved registry should provide data-driven decisions supporting qualitative treatment, process efficiency and prevention."
Last October AmCham Healthcare Working Group launched a vision statement on Latvian healthcare along with the pilot project on Oncology Data Registry advancing more efficient, inclusive and sustainable healthcare system that positively contributes to the development of the Latvian economy and society. We now look forward to working closely with the Ministry, NHS and other stakeholders to implement the proposed recommendations.
The AmCham Healthcare work group is an executive forum for organizations from across various healthcare industries bringing together international perspective aiming to improve the quality and access of healthcare. The working group aims at supporting healthcare policy improvements through an open dialogue with stakeholders and providing international perspective to promote efficiency and innovation in the healthcare system.
< Back to News

Roche Latvija is pleased to be part of the AmCham community.
Rauls Vēliņš, General Manager, Roche Latvija