AmChams from 35 countries in Europe visit the U.S. for Annual Conference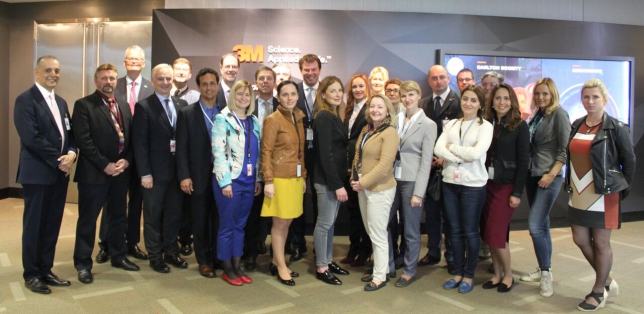 From May 8-May 13 representatives of 35 American Chambers of Commerce from Europe met in Washington, DC and Minneapolis for a series of high-level meetings on cross-sectoral issues such as TTIP and wider transatlantic economic relations. AmCham Latvia was represented by Ieva Melngaile, Office & Communication Manager.
The delegation in Washington DC was hosted by the U.S. Department of Commerce for a panel discussion on digital issues which featured remarks from Bruce Andrews, Deputy Secretary of Commerce, U.S. Department of Commerce. The delegation also met with the U.S. Chamber of Commerce. At the Chamber the delegation had a series of briefings which touched upon the U.S. elections, U.S. economy and also broader policy issues. The delegation ended with a networking reception focused on the Transatlantic Trade and Investment Partnership (TTIP).
The delegation had a chance to visit a number of companies based in Minneapolis:
3M
Mall of America
St. Jude Medical
Ecolab
Cargill
In Minneapolis the delegation met with representatives of Minnesota Trade Office for one-day symposium designed for Minnesota businesses interested in exporting to Europe or growing their business in Europe. The Minnesota Trade Office had a great lineup of local, national and international speakers and panelists for this event: Seward (Skip) L. Jones, Jr., Executive Director for Europe and Eurasia with the U.S. Department of Commerce was the keynote speaker and opening keynote speaker was Philip Ebeling, Vice President and Chief Technology Officer at St. Jude Medical.
Each year, executives from AmChams in Europe gather in the United States to meet with companies, organizations and key government agencies. The purpose of these visits is to learn about the current US business and political climate and to engage with American companies.
< Back to News

Together with AmCham we can develop our networking not only in the local market with local companies, but also reach out to good partners far away from Latvia.
Ugis Grigorjevs, Head of Sales at Nordwoc