Baltic-American Dialogue program open for applications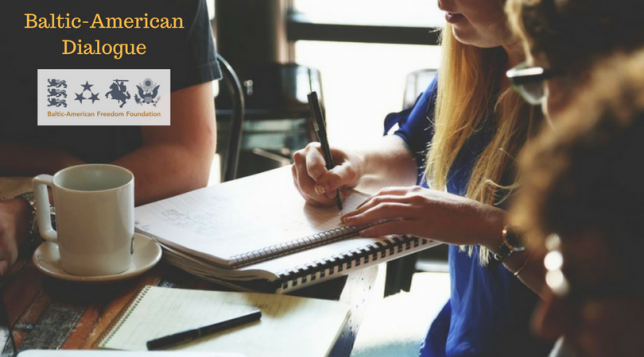 Public organizations (all NGO sector) are invited to apply the Baltic-American Dialogue Program offered by Baltic-American Freedom Foundation (BAFF). The program fosters the exchange of ideas between the Baltic States and U.S. and stimulates international collaboration. Applications are accepted twice a year. Public organizations are eligible for up to USD 10,000. Baltic experts are eligible for up to USD 5,000 in funding.
Public organizations in Estonia, Latvia, and Lithuania are invited to apply for funds to host speakers from the U.S. to travel to the Baltics. BAFF provides successful applicant organizations with financial support to sponsor American speakers on topics of mutual importance and interest. Funding is designed to cover expenses such as airfare, local lodging and meals, and transportation. Applicant organizations are encouraged to design programs and invite speakers to address the interests of their unique constituencies. Cross-Baltic institutional cooperation and programs with opportunities for student participation are especially encouraged.
Baltic experts who have been invited to present at major U.S. conferences or to address significant U.S. audiences are invited to apply for funds to cover unreimbursed costs of attending, such as airfare, and lodging, and meals.

Educational institutions such as universities, government entities, nongovernmental organizations such as Chambers of Commerce, social service organizations, and trade and business groups are eligible to apply for funding. Speakers should be chosen according to the interests and needs of the sponsoring group. Since visibly strengthening U.S.-Baltic ties is a core value for the Baltic-American Freedom Foundation, the strongest proposals will provide opportunities for bilateral learning and exchange of ideas between U.S. speakers and members of Baltic sponsoring institutions. In addition, proposals that include collaboration between similar groups or institutions within the Baltics and those that contain educational components for secondary or university students will be given special consideration.

Baltic experts who have been invited to speak at major U.S. conferences or to address significant audiences on issues of special importance are invited to apply. All BAFF programs alumni, are eligible to apply.
Find out more about the program here: https://balticamericanfreedomfoundation.org/programs-awards-dialogue/
Application deadline is February 1, 2020. Apply for the Baltic-American Dialogue program here!
< Back to News
AmCham is a 'must-join' organization for any company of scope or international ambition.
Karlis Cerbulis, Senior Vice President of NCH Advisors, Inc.