SAF Tehnika innovation to help patients & healthcare professionals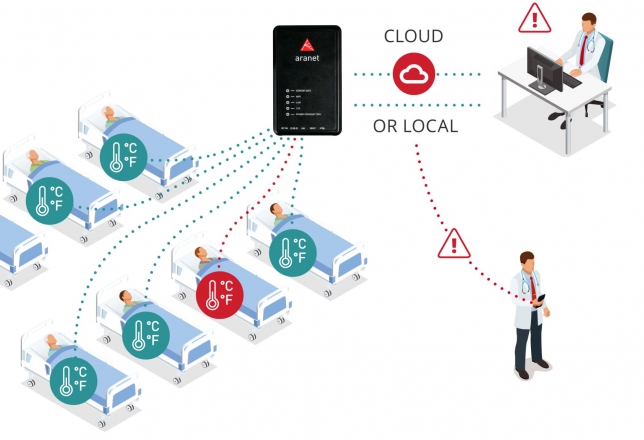 SAF Tehnika
is doing all they can to stay vigilant and react quickly to the changing environment. It took just two weeks for SAF Tehnika to release the Aranet IoT product for efficient monitoring of human body temperature to help healthcare workers fight Covid-19. Now the company is receiving enquiries from all over the world. Maybe you know medical clients in need of this? Please see the solution here:
Aranet Medical Thermometer
This product has already been supplemented and monitoring the patients' temperature at Pauls Stradins Clinical University Hospital.
A single system set-up consists of an Aranet PRO100 base station and 100 wireless battery powered body temperature sensors. These sensors can send their measurements to the centralised monitoring point wirelessly once every minute. The historical data can be viewed for each individual patient, as well as alerts can be set up to inform the medical staff of the most acute cases that require immediate attention. All functionality is available through an easy-to-use phone app.
The new Aranet body temperature sensor is factory calibrated for lifespan. This means that the sensors do not need to be recalibrated in the field (regular medical sensor have to be calibrated once a year).
< Back to News
AmCham is a 'must-join' organization for any company of scope or international ambition.
Karlis Cerbulis, Senior Vice President of NCH Advisors, Inc.