Baltic RE Group joins AmCham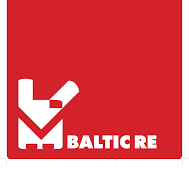 Baltic RE Group has recently joined the Chamber as a Small Business member. Baltic RE Group is an experienced real estate investor specialized in the creation and subsequent realization and management of value-added and core portfolios in the Baltics h Established by a group of entrepreneurs wishing to take advantage of the excellent investment opportunities in the region, since its foundation in 2008, Baltic RE Group has invested in the Baltics always with a long-term view and highly focused vision, not a speculative approach and creation of long term stable value.

The Baltic RE Group's business model provides for the purchase of historical buildings with prime retail high street location, at strategically important crossings, carrying out high-quality renovation works and further lease of the premises to solvent tenants.
In the Chamber it will be represented by Dina Abaja, Member of the Board.
< Back to News
AmCham is a 'must-join' organization for any company of scope or international ambition.
Karlis Cerbulis, Senior Vice President of NCH Advisors, Inc.