Become a Christmas Angel and donate to charity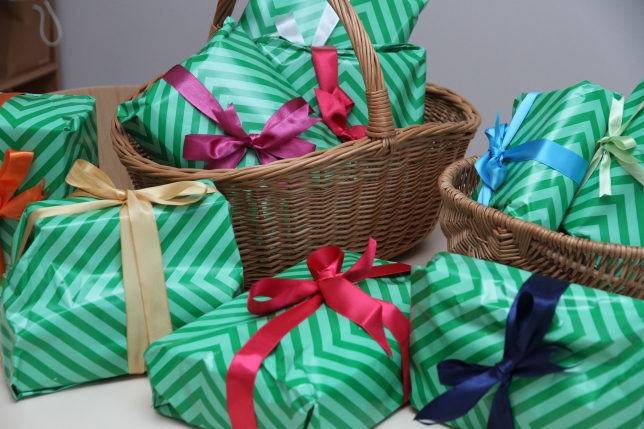 This time of the year when Christmas is near we want to spread joy and kindness, therefore, we invite our members, partners and friends to support the initiatives of the Latvian Foster Family Association (LFFA), Ronald McDonald House Charities Latvija Care mobile and SOS Children's Villages.
The Latvian Foster Family Association (LFFA) holds a campaign Christmas Angels, and is looking for donations to support the children in foster care. By becoming a donating angel you will help to bring Christmas joy to children in need.
You may donate books, games, food or sweets as Christmas presents and/or offer financial donation to support the activities of LFFA. Both personalized and non-personlized presents are welcome.
For more information and wish lists, please contact Ilze Golvere, LFFA Managing Director:
Mob. +371 26004103, ilzegolvere@inbox.lv
Donation details are available below:
Latvian Foster Family Association
Registration Nr.: 40008008996
Bank: A/S Citadele bank
SWIFT code: PARXLV22
IBAN LV79PARX0000233751014

Since 2011, Ronald McDonald House Charities Latvija Care mobile has provided approximately 20,000 free medical consultations for children in Latvia. In 2015, they performed more than 5000 consultations. Although, in 2016 the number is fallen to nearly 4000, the demand for free medical consultations has risen, and the schedule for visits is already set for three month ahead. To provide medical support especially for children in rural areas is very important as the access to health care in those areas is difficult due to various reasons.

With the help of Care Mobile, a 12-meter long mobile unit, eye doctor, pediatrician, allergist, neurologist, endocrinologist, gastroenterologist, speech therapist, dermatologist and otolaryngologist can provide consultations to children throughout Latvia. Donations are only income for RMHC Latvia therefore every single donation is of great importance to maintain regular medical check-ups to minimize the risk that diseases and conditions are not being diagnosed and treated early enough, or at all.

To find out more contact Executive Director Zane Gedrovica:
Mob: +371 26448018; zane.gedrovica@rmhc-latvia.lv.

Donation details are available below:
Nodibinajums (Charity)
"Ronald McDonald House Charities Latvija"
Registration Nr. 40008121853
Bank: Swedbank
IBAN LV88HABA0551019399112
Swift code: HABALV22
SOS Children's Villages is looking for an in-kind or monetary donation for extracurricular activities of children. They would be grateful to receive skis, skates, hockey and floorball sticks. Send your friends, family, and loved ones Greeting cards from SOS Children's Villages to let them know how much you care! Thus you will become a guardian angel for the children living in SOS Children's Villages in Latvia. Buy your Greeting card here: https://www.sosbernuciemati.lv/lv/labdaribas-veikals/.
Contact Dace Straume from SOS Children's Villages Latvia to find out more:
Mob. +371 25672677, dace.straume@sosbca.lv
Donation details are available below:
SOS Children's Villages Latvia
Cesu iela 31 k-3, Rīga, LV-1012
Registration Nr. 40008029381
SEB bank LV56UNLA0050011994184
Swedbank LV65HABA0551033254521
Nordea Bank AB Latvia branch LV44NDEA0000083612402
< Back to News

AmCham brings together companies from different industries & possibilities to improve a common ecosystem.
Valeria Kogan, Chairman of the Board of Smartomica