McDonald's celebrates 20 years in Latvia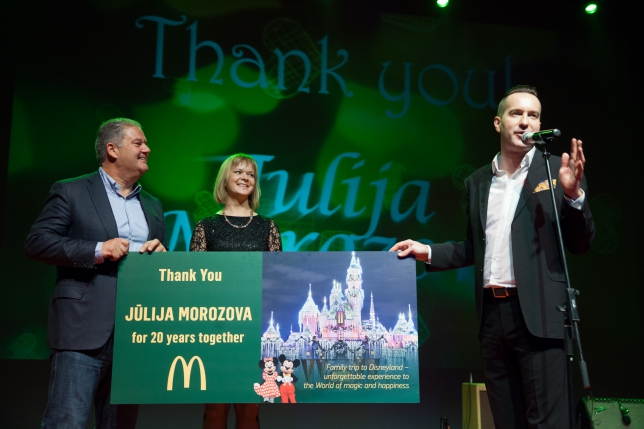 Leading restaurant chain McDonald's celebrates its 20 years anniversary in Latvia. McDonald's opened its first restaurant in Old Riga in 1994 and after 20 years it is still the most visited restaurant not only in Latvia, but in all Baltics.
During 20 years, McDonald's has made an important contribution to the national economy and inhabitants:
McDonald's is the largest investor in eating-out segment - during last years McDonald's investments into business development has reached EUR 15.9 million.
McDonald's is the largest taxpayer in eating-out segment - amount of McDonald's paid taxes reached EUR 4.75 million in 2013.
McDonald's" is the largest employer in eating-out segment, providing workplace for 650 people, of whom 19 are disabled people. Every year McDonald's invests EUR 100 000 in employees training and motivation programs.

McDonald's is the most significant contributor in corporate social responsibility area in eating-out segment. McDonald's priority is kids wellbeing. McDonald's has donated 245 983 euro to charity fund Ronald McDonald House Charities Latvija to provide free health care to 10 360 children in Latvian regions. To promote fruit consumption, active lifestyle, and interest in reading books, McDonald's has given away for free 96 000 books and 11 500 apples, as well as provided unique opportunity for 4 kids to attend FIFA Euro in Ukraine and FIFA World Cups in South Africa and Brazil.
"We have achieved strong growth during 20 years in Latvia. We are happy that McDonald's is the leading food company in the country by number of employees and visitors, as well as financial and investment results. It was possible only to our loyal and committed employees and guests and I would like to thank them for such achievements!" says Tomasz Nawrocki, McDonald's Managing Director in the Baltic States. "Our aim is to be the most advanced restaurant for families - we will introduce new unique digital solutions, take care of menu variety and keep investing in children wellbeing. Latvia is an important market for McDonald's and we will further expand the business and invest into our employees and customers' satisfaction to further ensure strong business momentum."
< Back to News

I would highly recommend membership to other professionals looking to expand their business connections.
Gundars Ziemanis, Latvia branch Country Manager, Siemens Healthineers