Changes to Visa Waiver Program to the U.S.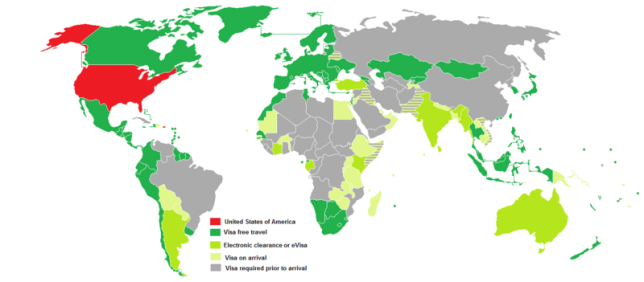 Under the Visa Waiver Program Improvement and Terrorist Travel Prevention Act of 2015, travelers in the following categories are no longer eligible to travel or be admitted to the United States under the Visa Waiver Program (VWP):
Nationals of VWP countries who have traveled to or been present in Iran, Iraq, Sudan, or Syria on or after March 1, 2011 (with limited exceptions for travel for diplomatic or military purposes in the service of a VWP country).
Nationals of VWP countries who are also nationals of Iran, Iraq, Sudan, or Syria.
These individuals will still be able to apply for a visa using the regular appointment process at a U.S. Embassy or Consulate. For those who require a U.S. visa for urgent business, medical, or humanitarian travel to the United States, U.S. Embassies and Consulates stand ready to handle applications on an expedited basis.
If an individual who is exempt from the Act because of his or her diplomatic or military presence in one of the four countries has his or her ESTA denied or revoked, he or she may go to the U.S. Customs and Border Protection (CBP) esta.cbp.dhs.gov.

Information on visa applications can be found at travel.state.gov.
< Back to News
AmCham is a 'must-join' organization for any company of scope or international ambition.
Karlis Cerbulis, Senior Vice President of NCH Advisors, Inc.