15 commitments of GEFCO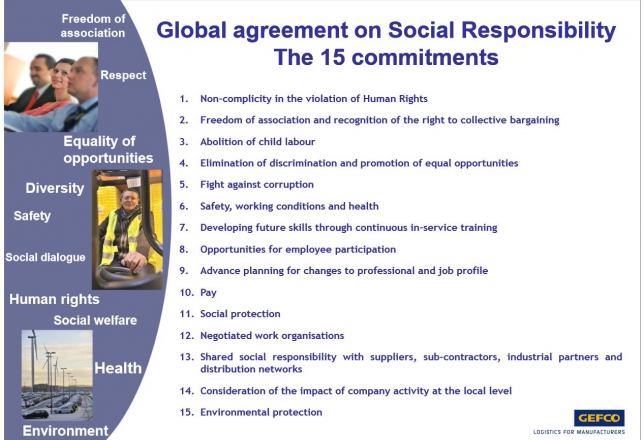 GEFCO Baltic most important asset is its Employees. Investing in Employees and in work environment, increase higher productivity, loyalty, and passion for service. Commitment to results and transparency - these are values their clients recognize and expects form GEFCO Baltic.

Martynas KERŠYS, General Manager:"GEFCO Baltic is company oriented to customers and employees, this is true that excellence is not a single act but a habit and for this reason safety and security are integral part of GEFCO's image. We stand for diversity and equality for all employees and prevention of the environment. For us how result is achieved is just as important as the result itself, that's why actions of suppliers and subcontractors is an important part of GEFCO service and are based on criteria of price, quality, performance, delivery, social and environmental responsibility. It's important for businesses to understand the importance of corporate social responsibility in order to continue sustainable development in the future."

On 20 May 2010, GEFCO reaffirmed its commitment to the measures in the agreement on worldwide corporate social responsibility.

The agreement contains 15 commitments concerning:

The respect and promotion of fundamental human rights,
The application of good management and development of human employees,
The sharing of social responsibility with suppliers and subcontractors;
The taking into account the impact of the company's business activity, especially from the environmental standpoint.
The agreement insists on the need for the GEFCO to:
Anticipate the transformation of business lines and jobs (i.e.; to support employees in all transformations of businesses and jobs by avoiding abrupt changes and emergency redeployments);
Implement the necessary actions with regard to safety, working conditions, health and the prevention of psychosocial, chemical and road risks and situations of harassment, stress and musculoskeletal disorders; and,
Undertake actions concerning environmental protection: respect of natural resources by controlling their consumption, combating climate change and reducing impacts on the natural habitat and third parties, improving employees' awareness and skills vis-à-vis environmental issues.
Every year the each GEFCO subsidiary, GEFCO Baltic included, establishes three priority actions that will be implemented during the year, based on the current situation.

GEFCO group respects the fundamental rights of its employees:
No under-aged workers,
No child labour or forced labour,
Freedom of representation,
No discrimination of any kind on the basis of age, sex, ethnic origin, religion, sexual orientation, membership of a trade union or political opinions,
Equality between men and women in terms of employment and pay.
GEFCO rejects all practices that restrict the freedom and dignity of its employees, such as moral or sexual harassment, violence or bullying.The members of GEFCO must adopt behaviour and attitudes in the exercise of their duties that respect the freedom and dignity of all.

An ethical charter to guide their actions and behaviour states and outlines five principles:
Respect for the law,
Respect for loyalty and transparency,
Respect for health and safety at work,
Respect for employees' rights,
Respect for the environment.
And 5 behavioural guidelines:
Professional commitment,
Protection of company assets and confidentiality,
Conflicts of interest,
Relations with customers and suppliers,
Political activity.
They are committed to providing their employees with working conditions that are suitable, acceptable and in compliance with applicable legislation in every country where GEFCO is present.
GEFCO is committed to honouring certain principles:
The integration of risk prevention in the design of systems and equipment - at GEFCO, risk prevention is based on the inclusion of safety factors right from the design stage of a project, including the selection of systems and equipment and the organisation of work.
The assessment of professional risks - GEFCO considers that effective prevention requires the systematic assessment of the risks to which employees may be exposed. This assessment must take place as early as possible in each process and it must involve cooperation with external partners.
The integration of risk prevention in working processes - the collective and individual measures and means of risk prevention are defined in the operations and safety procedures. Employees must be made aware of the need to observe all risk prevention and safety measures and standards.
Personnel training
Everyone who works for the GEFCO group - employees and contractors alike - must apply and understand their risk prevention rules and must be trained accordingly.
< Back to News

AmCham works hard to accomplish its goals and is a voice in the business community that is heard.
Filips Klavins, Managing Partner at Ellex Klavins