Corporate volunteerism is a win-win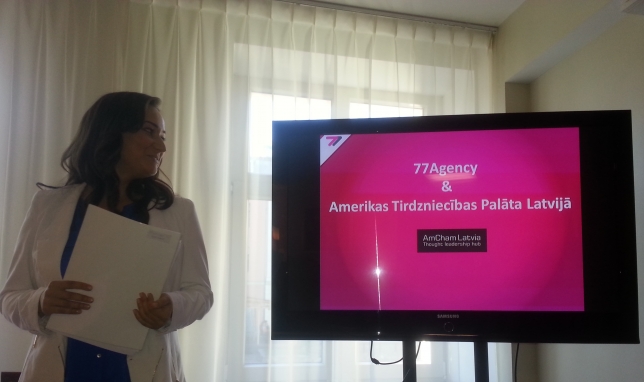 Corporate volunteering is a win-win for everyone involved. A growing number of companies are committed to supporting the communities by encouraging their employees to volunteer their skills, experience and knowledge to various NGOs.
In September the Association "brīvprātīgais.lv" (
www.brivpratigais.lv
) hosted a seminar to discuss cooperation between business and NGOs and opportunities for corporate volunteering. The purpose of the seminar was to discuss the impact of corporate volunteering and share best practices about successful volunteer programs.
Joining the discussion were the following experts:
- Daiga Eiduka, National Program Development Director, SOS Children's Village in Latvia;
- Arta Miķelsone, Project Manager, 77 Agency;
- Daila Silina, Head of the Baltic States, Schwarzkopf Professional;
- Līga-Smildzina-Bertulsone, Board member and Executive Director, AmCham Latvia.
Invited experts explored opportunities and challenges of their volunteering policies as well as long-term cooperation with NGOs. They came to a conclusion that engaging in volunteering can benefit all involved - business, employees and the community.
Liga Smildzina-Bertulsone said: "While volunteering is a relatively new trend to Latvia, it has become a very important topic for any sustainable company. Corporate volunteering is about giving, learning and growing. For companies it can help improve their working environment, build teamwork skills of their employees and boost their motivation. For employees volunteering brings fun and fulfillment. It also encourages building and maintaining relationships, gaining new knowledge and skills and understanding the needs of the community. By engaging corporate volunteers, communities get direct access to their expertise and guidance, and it helps raise their profile and make new friends and contacts."
Dace Maulina, Chairwoman of the Board of the Association brivpratigais.lv added: "We are indeed grateful to AmCham for their support and interest in helping to identify existent examples of corporate volunteering in Latvia. Considering the interest and involvement of participants - both NGOs and companies - we see there is time, need and space to develop cooperation between NGOs and companies for the benefit of organizations, corporations, employees and community. Showcasing existent examples is a good way of doing it and in cooperation we hope to continue our task in hand".
The event was attended by about 30 NGOs and business representatives who shared their experiences on how to motivate companies to engage in corporate volunteering and how volunteering can help increase organizational capacity of NGOs.
< Back to News
We joined AmCham as a community of shared values to expand our access to global competencies and to foster the quality of the health ecosystem.
Agrita Kiopa, Vice Rector for Science, Riga Stradins University