The culture of compliance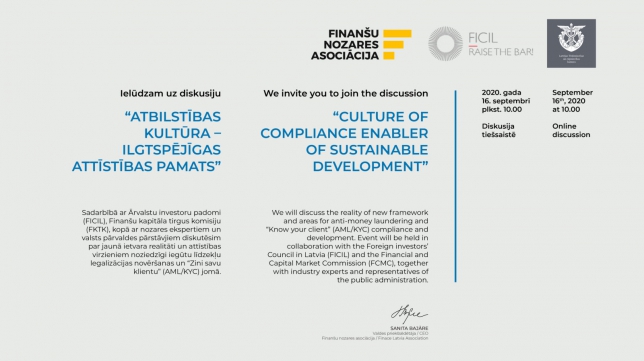 Finance Latvia Association in cooperation with FICIL and Financial and Capital Market Commission together with industry experts and representatives of the public administration organized an online discussion "Culture of compliance - enabler of sustainable development" on September 16 to discuss the reality of new framework and areas for anti-money laundering and AML/KYC compliance and development.
The entire event is available below:

Experts of the discussion were as follows:
Laila Medin, Deputy State Secretary of Ministry of Justice
Santa Purgaile, Chairperson of the Financial and Capital Market Commission
Ilze Znotiņa, Head of Financial Intelligence Unit of Latvia
Zlata Elksniņa Zaščirinska, Member of the Board at FICIL
Kārlis Danēvičs, CAMS Co-chair of the Lending Committee at the Finance Latvia Association, SEB Latvia Board member
Jānis Endziņš, Chairman of the Board at the Latvian Chamber of Commerce and Industry
The discussion was moderated by Uldis Upenieks, CAMS Co-chair of the Finance Latvia Association's Compliance Committee, Chief Compliance Officer, Member of the Management Board at Citadele banka.
< Back to News

Membership is an attestation that we belong to the modern Latvian business community.
Dace Silava-Tomsone, Managing Partner, COBALT