Delna's study on lobbying practices is out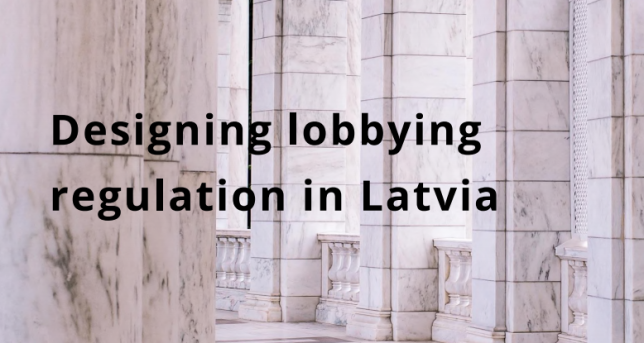 Transparency International Latvia (Delna) has published an extensive study on current interest representation (lobbying) practices in Latvia at the national level and in municipalities, ethical and unethical interest representation, communication of interest representatives with decision-makers, and examples of lobbying standards worldwide. It also provides insight into previous attempts to regulate the field of lobbying in Latvia and explains why regulation has not been adopted and implemented so far.
The study was conducted from December 2020 and involved participants from the national and regional level (non-governmental organizations, trade unions, business associations, professional lobbyists, public administration and municipal officials). The results of the study, in the form of recommendations, will be used in further discussions on the content of the new interest representation transparency law.
The study included various directions, such as:
conducted an online survey involving the non-governmental sector (including vulnerable groups and minorities), business associations and entrepreneurs, professional lobbyists and PR agencies. A total of 142 responses were received from various respondents in Riga and from remote regions in Latvia;
organized three focus groups in Latgale, Vidzeme and Zemgale, which were attended by representatives of local authorities and various non-governmental organizations. The organizations differed both in terms of their capacity and resources, ranging from small and specialized organizations to large organizations aimed at achieving regional cooperation. A few of them included other NGOs and municipalities as members;
conducted 20 individual interviews with decision-makers at the executive level (ministries) and municipalities (chairmen, deputies and personnel from departments, who are in charge of development and infrastructure issues).
The study covers a wide geographical range, with participants from Rīga, Daugavpils, Valmiera, Jelgava, Rēzekne, Liepāja, Jēkabpils municipality, Līvāni municipality, Ilūkste municipality, Dagda municipality, Balvi municipality, Viļaka municipality, Limbaži municipality, Gulbene municipality, Ozolnieki municipality, Dobele municipality, Bauska municipality, Kuldīga municipality, Cēsis municipality, Preiļi municipality, Alūksne municipality, and Ape municipality.
This study and Delna's work on the development of interest representation transparency law is a part of our broader work in bringing modern democracy to life in Latvia. By conducting this study, Delna sought to understand the potential scope of the law and its practical added value, the desire of interest representatives and decision-makers to be regulated, and the potential burdens of regulation.
Delna's recommendations apply to both the national and municipal level and can be divided into several groups: recommendations regarding definitions of interest representation and public decision-making; recommendations regarding the scope of lobbying activities to be reported; recommendations regarding the creation of a register of interest representatives and an online reporting platform; recommendations regarding monitoring and sanctions; recommendations regarding rules for the transparency of officials at the national and local level, including restrictions on additional activities; recommendations regarding the improvement of public participation mechanisms and the legislative footprint.
The study is available HERE
< Back to News

We re-affirm our commitment to the values that AmCham stands for and that we share.
Kārlis Danēvičs, Board member, Head of Credits and Risk at SEB Banka