Donate for happy childhood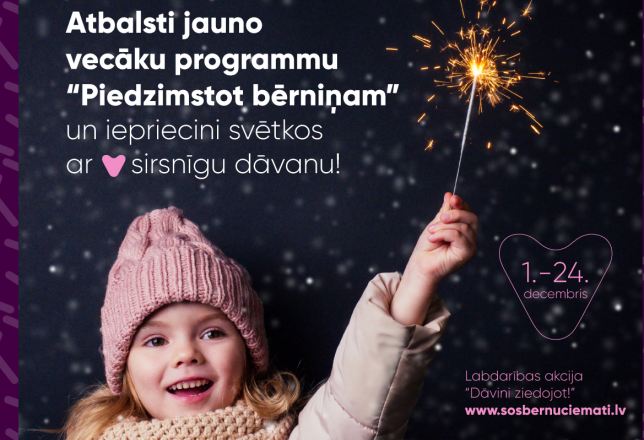 SOS Children's Villages
is looking for both financial and in-kind donations to support the children from SOS Children's Villages, SOS Family Support Centers and SOS Out-of-family Care Support centers "Airi vecākiem". By becoming a supporter you will help to bring Christmas joy to the children in need. SOS Children's Villages welcomes donation of sweets, Christmas trees, bicycles as Christmas presents and/or financial donations to support their ongoing activities.
SOS Children's Villages also calls to participate in the campaign "Buy a gift and donate" at the shopping center Alfa by choosing a personalized donation for Christmas. This campaign invites to donate for "Birth Child" program and particularly for parents of newborn children instead of buying the gift. Read more about the campaign HERE

The charity campaign will take place on the 1st floor of the shopping center Alfa (next to the Information Center) from December 10 to December 24. 100% of proceeds from the campaign will go to charity organization - SOS Children's Villages in Latvia. Everyone who will donate more than 10 EUR will receive a Christmas tree decoration.
SOS Children's Villages is mainly known as provider of long-term family based care for children who have lost their parents. The organization provides support to families with over 400 children in 3 Family Support centers. SOS Children's Villages is leading also maternity program - support to newborns, prevention program in kindergartens, special program for teenagers, grieving program for children who lost their beloved ones as well as running 5 Support centers for foster families, guardians and adoptive parents in Riga, Bauska, Valmiera, Kuldīga and Gulbene. In total SOS Children's Villages is taking care about more than 1200 children all around Latvia.

If you would like to know about other ways to help SOS Children's Villages in Latvia, you are welcome to contact Dace Straume: dace.straume@sosbca.lv or 25672677.

Donation details:
Latvijas SOS Bērnu ciematu asociācija
Zemitāna laukums 5, Rīga, LV-1006, Latvija
Reg. No. 40008029381
Accounts:
- SEB bank LV56UNLA0050011994184
- Swedbank LV65HABA0551033254521
- Luminor bank LV03RIKO0000083612402
- Citadele LV66PARX0019585450001
Karlis Danevics, Member of the Management Board of SEB Latvia explains why he supports SOS Children's Villages in the video below:
< Back to News

AmCham is a great place for networking, exchanging ideas and generating new business directions.
Peteris Kokovkins, Director of Baltic Technology Group