Donate to children this Christmas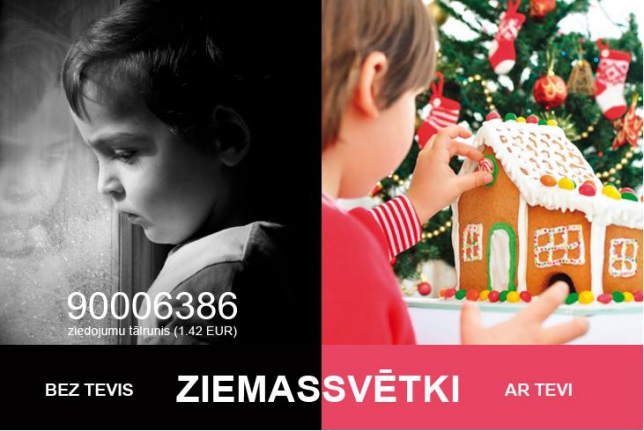 This Christmas we invite you to support families of the SOS Children's Villages in Latvia by donating from EUR 10 to 200, which will help to provide, for example:
10 € for Christmas presents for children;
15 € creative lesson for one child for one month;
20 € household items for the family;
50 € for one family visit to the theater;
200 € psychological aid course for one child.
150 children from across Latvia, who have lost their biological parents, have now obtained their new home in 2 SOS Children's Villages - in Valmiera and in Islice. There are 4 to 7 children growing up in each of 22 SOS families and there are SOS mothers and SOS couples who, very much like real parents, are taking care of them. SOS Children's Villages is a non-governmental organization that can continue its work only thanks to good will companies and individuals, providing their support. You can learn more about the mission and the ways of support on the organization's website: www.sosbernuciemati.lv.

Donation details:
SOS Children's Villages Latvia
Cesu iela 31 k-3, Rīga, LV-1012
Reg. Nr. 40008029381
Account numbers for donations:
SEB bank LV56UNLA0050011994184
Swedbank LV65HABA0551033254521
Nordea Bank AB Latvia branch LV44NDEA0000083612402
< Back to News

AmCham is based on values and behaviors that enable its members to fulfill a common purpose - a sustainable and transparent business environment, and we are truly proud to be a part of this growing community.
Edgars Skvariks, Corporate Public Affairs Manager at Bayer