Dynatech ensures 210 shots against COVID-19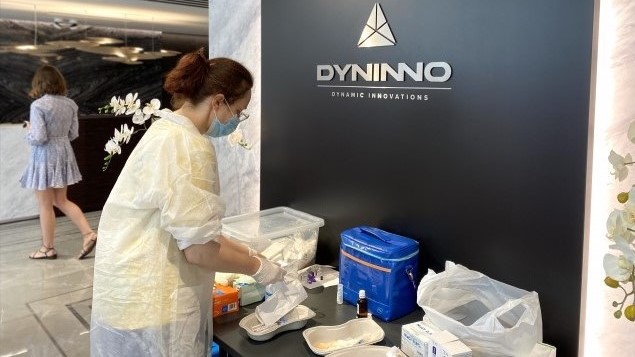 Striving to achieve herd immunity at workplaces, employers are facing a critical set of challenges on how to make the vaccination process smooth and efficient. To share best practices of how our members are responding to this challenge, we asked our member DYNATECH how they go about vaccination in their company.
Is your company encouraging vaccination and how?
Since the start of the pandemic we've been in constant collaboration with the government bodies in order to provide a safe working environment for those employees who work at the office. Once we had the chance to apply for a collective vaccination at the office, we used this opportunity right away and were one of the first employers in Latvia which provided the employees a safe and convenient way to get a vaccine. Since the wellness of employees and their families has always been our priority, we invited all interested colleagues to bring one close relative as well.
Have you used or planning to use collective vaccination for your employees?
Currently, we had two rounds of vaccination: for the first and second doses of COVID-19 vaccine. We keep track of our employees who received their vaccines outside the office and those who are planning to get one. Once we have the minimum number of interested colleagues again, we will arrange additional vaccination dates. Currently, we provided 210 shots against COVID-19 at our premises.
Does your company provide incentives to employees who choose to get vaccinated?
As vaccination is voluntary, it wouldn't be correct to divide our employees based on their vaccination preferences. Although we strongly support vaccination against COVID-19, we don't have a specific incentive program for the vaccinated colleagues. Instead, we encourage mutual understanding for each person's decision.
What are the largest challenges for you as an employer in this process?
With the collective vaccination and easing of restrictions by the government, we're looking forward to getting back to the office in the near future. Currently, our biggest challenge is to understand how we can provide both safe and comfortable working conditions for all the types of employees in order to treat them equally. Personal communication and on-site collaboration have always played a key role in our business processes, therefore, we'll look for a set of actions and internal regulations that will allow us to find a middle ground.
< Back to News

Together with AmCham we can develop our networking not only in the local market with local companies, but also reach out to good partners far away from Latvia.
Ugis Grigorjevs, Head of Sales at Nordwoc