EBRD donation campaign for SOS Children's Villages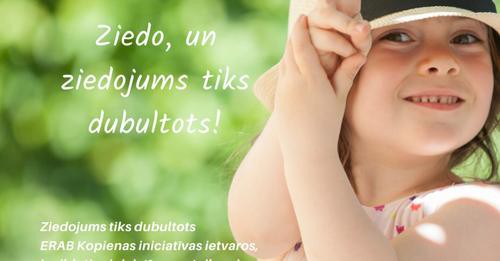 The Community Initiative of the European Bank for Reconstruction and Development (EBRD) has chosen the SOS Children's Villages Latvia as an organization whose donations received between 3 May 2021 and 3 November 2021 will be doubled.
This means that for every euro donated, the EBRD Community Initiative will add one more euro, for every 10 euros another 10 euros and for every 100 euros - 100 euros.
Within the framework of this cooperation, three important projects for the SOS Children's Villages Latvia will be supported:
Learn more about the projects HERE

If you would like to know about other ways to help SOS Children's Villages in Latvia, you are welcome to contact Dace Straume: dace.straume@sosbca.lv or 25672677.

Donation details:
Latvijas SOS Bērnu ciematu asociācija
Zemitāna laukums 5, Rīga, LV-1006, Latvija
Reg. No. 40008029381
Accounts:
- SEB bank LV56UNLA0050011994184
- Swedbank LV65HABA0551033254521
- Luminor bank LV03RIKO0000083612402
- Citadele LV66PARX0019585450001
< Back to News

AmCham is a great platform for companies and individuals sharing the same values.
Aigars Milts, Chief Executive Officer of IIZI Brokers