Economic impact of insolvency abuse reaches EUR 665 million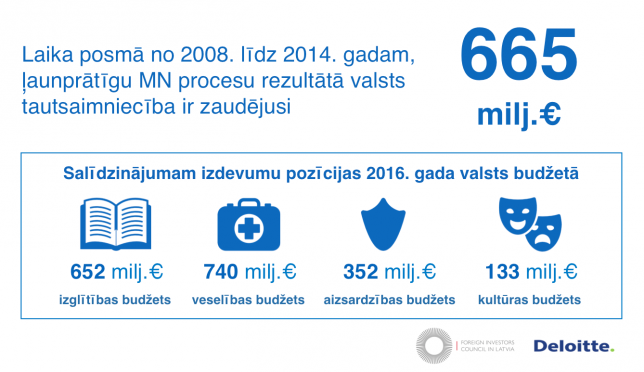 On April 6, Foreign Investors Council in Latvia (FICIL) presented its Insolvency Abuse Report that FICIL carried out in cooperation with Deloitte. The report analyzes the main indicators of insolvency abuse, its impact on the economy and the resulting losses to the society.
An effective and transparent insolvency procedure is one of the key components that ensures solid economic growth and stability. According to the World Bank an effective legal framework should provide for timely, efficient, and impartial resolution of insolvencies and prevent the improper use of the insolvency system. If the insolvency proceedings are misused, such abuse may result in significant negative impact on the economy and result in losses for the key stakeholders of the economy: businesses, investors, employees, and the public sector. The entire report is available here: http://bit.ly/1VlW8bc
FICIL is busy working towards the upcoming High Council that will be held in May 26-27, 2016. The key theme of FICIL`s 20th High Council meeting will be "Back to the future" with an aim to look back on what has been done in the previous ten years.
The latest update on FICIL's working groups is available here.
< Back to News

AmCham represents the interests of its members, making membership a valuable asset.
Matiss Kukainis, Partner at Spigulis & Kukainis