Ellex Klavins - Law Firm of the Year 2020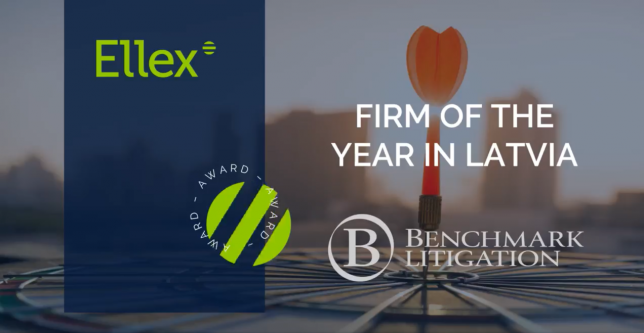 On June 4th Benchmark Europe announced the winners of the 2nd annual European awards for the best firms, teams, lawyers and cases throughout Europe of the past year. The Benchmark Europe awards recognizes excellence in the disputes and litigation market present throughout the European region across a wide range of dispute resolution practice areas.

According to the results, Ellex Klavins has been recognized as the Law Firm of the Year and partner Daiga Zivtina has been recognised as the Lawyer of the Year in Latvia.
Ellex Klavins is proud to receive this recognition, which is a confirmation of their constantly developing and leading dispute resolution practice.

Benchmark Litigation is the definitive guide to the world's leading litigation law firms and lawyers. It is the only publication on the market to focus exclusively on litigation work. The research is conducted through extensive interviews with litigators, dispute resolution specialists and their clients to identify the leading litigators and firms. During these interviews, recent casework handled by law firms is examined and individual litigators are asked to provide their professional opinions on peers and practitioners within their jurisdiction or practice area.

More information about the results is available HERE.
< Back to News

I would highly recommend membership to other professionals looking to expand their business connections.
Gundars Ziemanis, Latvia branch Country Manager, Siemens Healthineers