Business Blueprint connects NYC investors and Nordic businesses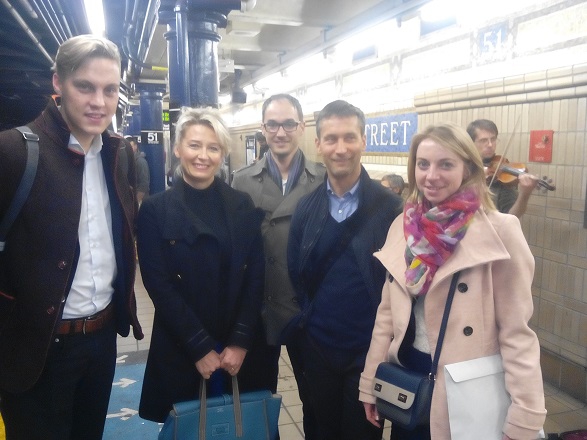 On the first week of November Diatom Enterprises participated in Business Blueprint event in New York, organized by AmCham Finland. Diatom Enterprises have been working with clients from North America for 11 years now, however, they have decided to participate in a two-day-event in New York together with six more companies from the Scandinavian and Baltic regions: two companies from Finland, two from Estonia and two from Latvia.
The event was part of the Launchpad USA program that aimed to connect companies to experts and investors in New York. The first day involved a full day of visiting local companies and meeting people who helped tp clarify the methods for scaling business in the US. Following this, the second day program was held in coordination with the New York Angel Investor Group. This was the dynamic pitching event where the participant companies can make valuable introductions. The two days were rounded off with a reception in the AmCham New York Office on Broadway. Reception brought even more opportunities to establish new contacts among the members of AmCham Finland in NYC.
According to Business Development Manager of Diatom Enterprises, Darja Krizska, "Thanks to the perfect organization, the event proved to be informative and effective. During the first day we prepared the theoretical background for establishing a company in the USA, covering all kinds of questions: from law and taxes to branding and marketing. The second day was rather "The Action Day" as it gave the opportunity to pitch the investors, presenting them our companies and getting valuable feedback. The evening reception was warm and welcoming end of the event that brought event more opportunities to establish new contacts among the members of AmCham Finland in NYC. One of the conclusions from the theoretical sessions, though, was that if you want to expand to the US and be officially present there, you better hire a lawyer; if you want to live and work permanently in the US, you need a VISA and to get that - hire a VISA expert. It will save you a lot of time and money. And, most probably, you will be able to succeed with the first attempt. One of the valuable points from the marketing session was that people in the US tend to create a portfolio about a potential collaboration partner, therefore it is crucial to be present in the media. Otherwise, you are "invisible" and have no story to share with potential American clients. But better do not try to buy media, it will look cheap and vulgar; better be creative and do not be afraid to implement guerilla marketing. At the same time, it is perfectly fine to develop your brand remotely: you can easily create a strong image and share stories via various virtual channels, starting from LinkedIn publications and ending with submitting articles and being published on Forbes. If I was asked whether I would like to participate in such an event again, I would definitely accept the invitation without hesitation since such an event brings invaluable collaboration opportunities with further relationship development."
< Back to News

AmCham reflects our values and enables us to meet similarly-minded people.
Daiga Auzina-Melalksne, Chair of NASDAQ Riga